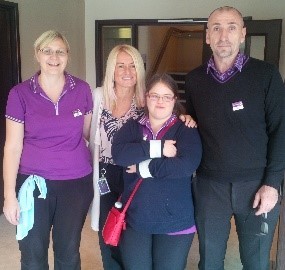 Claire completed the DE3 programme at Derwen College in July 2015 and then returned home to Worcester.  In an inspirational example of what can be achieved after leaving college, she has since been able to transfer her DE3 work placement at Premier Inn from Chester to Worcester and in September 2015, she moved from her parents' house to a wonderful new home where she will be putting the independent living skills she has learnt to good use.
Derwen College has an excellent relationship with Premier Inn.  A training room replicating one of their hotel rooms has been provided at the college and it has been used to train Derwen students to the hotel group's exacting housekeeping standards. Whilst at College, Claire took part in this programme and then travelled by train once a week to work at a Premier Inn near Chester.
During her last term at Derwen, the college asked Premier Inn about transferring Claire's placement to Worcester, and the hotel group were enthusiastic in their support for this initiative.  Within two weeks of leaving Derwen, Claire had been accepted at Premier Inn, Worcester, for one day a week with the potential for more once she was familiar with the new environment.  [October update] Claire has now been offered a formal contract with Premier Inn, working two paid days a week from November 2015.  Well done Claire!
Claire's achievements at Premier Inn were recognised in the national press as this recent article shows:
www.theguardian.com/society/2015/aug/04/hotel-training-learning-disabled-people-premier-inn
The college's links with Premier Inn are well documented in the above article and also in our feature on Elizabeth below:
www.derwen.ac.uk/next-steps/student-outcomes/elizabeth-premier-superstar
But what about Claire's life outside of work?  Our aim is to prepare our students to live as independently as possible after college, and to enjoy a lifestyle which the rest of us take for granted.  Claire is now settling into a new life as a tenant in the Hazel Court supported living development within the Sanctuary Grove care village in Worcester.  Hazel Court provides 14 brand new, purpose-built apartments with full time staff available at all times and Claire's father enthusiastically described the development as 'being as close to Derwen in its approach as it was possible to be'. Whilst at college, Claire gained "A" grades in her kitchen, shopping and, of course, travel training studies, making her perfectly placed to take advantage of this fantastic new opportunity.
Unsurprisingly, there is great demand to become a tenant of Hazel Court and it is wonderful that two of the first three young people to move in are Derwen alumni. Claire's neighbour is Joanne who left our college three years ago.  Claire's parents see this as "a solution for life", the last piece in a jigsaw completed so far by the college, Worcestershire County Council, Claire's parents and, above all, by Claire herself.
Below is a list of links to some of the organisations referred to in this article:
Premier Inn:
www.premierinn.com/en/search!execute.action
Premier Inn, Chester:
www.google.co.uk/?gws_rd=ssl#q=premier+inns+chester+area&rflfq=1&rlha=0&tbm=lcl
Sanctuary Supported Living:
www.sanctuary-supported-living.co.uk
Hazel Court (Sanctuary, Worcester):
www.sanctuary-supported-living.co.uk/hazel-court
'None of this would have been possible without the fantastic work you and your wonderful staff do at Derwen: we are so grateful.'   Roger, Claire's father.