Anna left Derwen College summer 2018 having achieved both the Bronze and Silver Duke of Edinburgh's Award (DofE) Award. Her involvement with DofE attributed to success in other areas of life including work.
At Derwen students learn work-ready and independence skills through on site and external work experience placements and through inspirational learning, development and care.  This learning enables students to achieve their aspirations of leading a more independent life.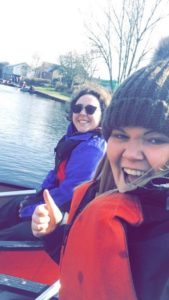 Creative Studies student Anna, who has learning difficulties and autism, used her interests in art and craft to shape the Skill element of the Duke of Edinburgh's award; whilst attending the gym to develop personal fitness for the Physical element of the award. Furthermore, Anna often extended her college day to carry out volunteering tasks around college during the evening. With her team she completed a three day, two night canoe and camping expedition. Anna proudly recalls canoeing 11 kilometre, 12 kilometre and 7 kilometre stretches describing how "I learnt teamwork and how to get over tough obstacles".
Steve Evans, Duke of Edinburgh'S Award (DofE) Award Coordinator at Derwen College, believes that "the DofE award supplements everything else we do in College in terms of developing independence and gaining skills for life. Individually and as a group, participation in the DofE gives all students an opportunity to be independent, to grow in confidence and be challenged.  A challenge that sees the development of new skills and attitudes to be a more rounded, confident young adult".
"The most significant changes we saw in Anna was raised self-esteem and self-confidence. She overcame many challenges, however her determination, positivity and sense of adventure continued to develop."
Everything Anna has worked on as part of the DofE award further complemented her work and life skills training at college. She has been able to transfer her enhanced communication and problem solving into her work experience placement with Tesco. In a short space of time Anna moved from working on the shop floor, to checkouts supported by college staff. Gradually support was withdrawn and Anna was working two shifts a week, independently serving customers on the till in Tesco Ellesmere.
Anna's confidence and independence blossomed in her final term. She took the initiative to seek out jobs in her home area; filling in online application forms for jobs at local Tesco stores. Anna was called for interview, she bought an outfit and got herself ready for the interview. Accompanied by college staff to travel from Shropshire to Pembrokeshire, Anna attended the interview independently, later finding out that she had been successful in securing a part time, paid job with Tesco in Haverfordwest.
Work Experience Coordinator at Derwen College, Abi Baker, said "Anna may not have been the same young lady had she not followed the Duke of Edinburgh's Award programme".
Anna says "DofE gave me the confidence to go to the interview. I have now officially started my Gold DofE award. Bring on the challenge….."