Here are just a selection of the compliments we receive.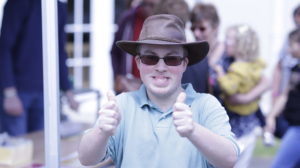 To give feedback about services and facilities at Derwen College please email: haveyoursay@www.derwen.ac.uk.
If you would like to look at our compliments archive, please click here.
Mo and I went to Derwen College Garden Centre yesterday to get something we just could not buy elsewhere. I was most impressed by their display of plants, they looked well cared for and of the highest quality. In future we have decided we will not go to other garden centres for plants, but go to the Derwen first.
Shirley Jones, August 2020 
I would like to thank you for providing the plants, and planting them in our community planters.  We know that it hasn't been an easy task and we appreciate your efforts.
We hope that the planters cheer up residents at  this difficult time.
On behalf of Llangollen Rural Community Council, June 2020 
Thanks for your email, we really appreciate all you have done for T and offering the chance to come to your fabulous college, but T has chosen [another college] himself, so we have had to go with what he has chosen, if we can. It has been a rollercoaster ride trying to make a decision about what to do, and we've tried to involve him as much as possible along the way, so the fact that he has come to this conclusion by himself is something we feel we must respect and work towards.
Please pass on our thanks and best wishes to everyone there, as you are all incredible and there is a very large part of us that is gutted he has chosen not to come to Derwen College.
Parents of student who was offered a place at Derwen College, January 2020
I just wanted to say thank you for your time yesterday at Gobowen. It was really interesting to hear about the work you are doing. I had a lovely welcome from the staff in the café when I arrived. Theresa was really helpful in telling more about the café and the station – please do pass on my thanks to her and her student.
Next time I am passing through, I will definitely stop by for some of that cake!!
Customer at Station Cafe, January 2020
Thanks so much for organising these fantastic [student] trip opportunities again. Anna thoroughly enjoyed the trips last term, and is still talking about them – " You must see Disney on Ice Mum and Cadbury's world!"
Parent, January 2020
Over Christmas I had family and friends visit me and we went to [Baschurch] Cemetery to lay a wreath on my wife's grave.  My family had not visited the cemetery for a while and they were extremely complementary about how the cemetery had changed.  They all remarked on how well the cemetery is looked after and how the changes that have been made really give a nice peaceful environment to sit and reflect.
I know how much work your team (Leaf it to Us at Walford) have put in and I would personally ask that you pass on our families thanks to everyone that is involved and also let them know that people do notice and appreciate the work that has been done.
Councillor for Baschurch Parish Council, January 2020
Compliments from 2019
We very much enjoyed the visit, everyone was friendly and you have excellent facilities. The information received was informative and T enjoyed planting up the pansy and making a badge.  The excellent facilities and friendly atmosphere of the establishment as a whole and the realisation that there is somewhere that T could really benefit from attending. There was a lot to see and we look forward to a further visit.
Potential student's parent following a visit on our Open Day, October 2019
Thank you very much for being so helpful on our visit to Derwen on the Open day. J and I enjoyed the day and had the opportunity to talk to as many people as we could about what was on offer at the College. We were advised to attend by our Careers Officer as she wanted us to know what was available to us.
Thank you very much for your time.
Potential student's parent following a visit on our Open Day, October 2019
We just wanted to say THANK YOU so much to you and all the teams supporting A. She said again on the phone completely unprompted yesterday 'Mum I like it here at College'. She certainly sounds happy too.  It's a credit to you all! Particularly as it was so last minute getting the funding to go and make arrangements but you have got everything together to support her to settle in so well.
She's been with you for over 4 weeks! Before this she had only been away from home for up to 5 days a handful of times.
Amazing support to help her settle in so well – thank you!
A's parents, October 2019
Many thanks for an enjoyable and informative afternoon tea yesterday.  The afternoon tea was delicious, and the facilities of the college are very impressive (I think we all fancied a dip in the hydrotherapy pool!). We came away very moved by the worthwhile work of the college and the important role it plays in the lives of its young people.
Please thank our guide for giving up her times to show us round. We particularly enjoyed the 'retail therapy' at the end!
Lee Brockhurst WI, October 2019
Thank you so much for sending me R's ILP report, what wonderful reading it makes! She is so enjoying her time at Derwen and I can see she is making so much progress, thank you to all of the staff for that!
Parent, September 2019
I just wanted to say thank you to you and all of the Bungalow staff for all of your hard work and help today getting the students settled in.  C was very happy to get back and all of the staff were fantastic making sure we had everything sorted.
Parent of C, final year student, September 2019
Some of 2018's compliments
I just wanted to say a huge thank you and congratulations on a wonderful performance!!  We thoroughly enjoyed it, and the children were so excited!
Local school group attending the Christmas show, December 2018
My daughter started at Ashdale House eight weeks ago. Staff really understand her complex needs. The changes in Sophie have been astounding; she is fulfilled, which has a positive impact on her behaviour and the rest of her life. The placement far exceeds our expectations. Across the whole of Derwen College, what I have always been aware of is the confidence and happiness that radiates from all students.
Parent, November 2018
After what felt like a wobbly (parental) start to the year it was so lovely to come back yesterday to feel the busy Derwen atmosphere at its best. His bedroom was tidy and spotless, and I felt the care shown in the preparation, so thank you to all involved in that. He will be absolutely delighted to have done the Disney trip I am sure, what a wonderful way to be welcomed back
Thank you for looking after my boy.
Parent, October 2018
I needed to find a college that had the right facilities for me. One that would allow me to have a social life and help me to work. Derwen College has everything. Derwen College has helped me to break my dependence on my mum and dad – I make my own decisions about my care, I'm gaining work skills and I shape my own social time.
Tayler, final year student, September 2018
We are very pleased with the progress [student] has made in her first term at Derwen College.  She is enjoying her experiences in the various catering environments. She is learning new skills and has shown us some of them at home.  Most progress has been in her independence and home skills.  Preparing meals and snacks, shopping and budgeting, doing her own washing and making her bed are all new experiences for [student] and she loves doing it all. We think she has also gained a lot in confidence.  She seems to be a little bit more proactive in some areas rather than sitting back and letting others take the lead.  All in all a very good start.
Parent, July 2018
It was a pleasure to be a student at Derwen College. I have become a strong and confident woman. I was so happy from the start. For anyone thinking about going to Derwen College, I would say go for it, you'll have the time of your life and, it will prepare you for life.
Megan, former student, July 2018
I found my daughter's transition from Derwen College and beyond seamless. There was a good connection between transition staff at Derwen and her social workers, which meant that a supported living placement was set up early on. I knew who I could contact at Derwen. Megan has been able to continue to build upon her employment skills and maintain a fulfilled life.
Tracy, parent of Megan
Please make sure all staff know that I'm over the moon with [student's] progress! He's so confident and happy at Derwen I couldn't dream of a better place for him to be.
Parent, July 2018
I would just like to say a massive thank you to the staff. They are all amazing and the difference we've seen in [student's] confidence levels has been massive. We are truly gobsmacked & over the moon how well she has settled in. Thank you is such a small word, but it has a massive meaning to us and we really appreciate everything you do to support her.
Parent, July 2018
To everyone at Derwen who has helped [student] over the last two years, through the ups and downs….you never gave up on her.  She has blossomed this year…growing in confidence and independence.  We can't thank you enough.
Keep up the wonderful work …you really are making a difference."
Parent, July 2018
Derwen College has given me learning and experiences beyond day-to-day education. I am developing all of the time. It has really helped me to increase my independence; travelling, cooking – I have the confidence to try new things. My work experience and training has helped me to gain retail skills. Derwen College really helps with starting a great future – I am moving into supported independent living after Derwen. I really recommend it to other young people.
Former Student, June 2018
Myself and my parents attended the same evening performance as your students & staff on the evening of 24/02/18 .
We were in fact sat amongst your group at the end of one of the rows your group were in. Hand on heart they were a pleasure to sit by and it seemed they thoroughly enjoy the performance – including singing and dancing at the end.
Your students and staff were amazing & a credit to your establishment and I hope they enjoyed the performance as much as they seemed to.
Member of public, February 2018