Today #LoveOurColleges takes a look at how FE colleges support people and support communities.
Derwen College is proud to be a part of the community. Students from all over the UK quickly become a vital part of the college community and part of our local community. Also remaining part of the community in their home areas.
As a college community, students work together in their learning and social life. We have an active Student Union Board, and in sports and activities such as Duke of Edinburgh's Awards.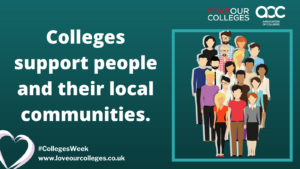 Our main site, near Oswestry, welcomes visitors from the community to eat, shop and relax in our Garden Centre and Shop, Karten Print Shop and Garden Café. And students take up work placements in the community.
Our Work Experience and Transition team strive to forge partnerships with businesses in the local community and across the UK. These collaborations bring invaluable work placements to our students in Hospitality and Housekeeping, Retail, Performing Arts and Horticulture.
Some of our work placements are temporarily unavailable due to the Covid pandemic. However, where possible, Derwen College students can still be spotted working in the community. Retail students man the Derwen College stall at Oswestry Market every Wednesday during term time.
Retail student Sam Innes, from London, works on the Derwen College market stall in Oswestry. He sells the college's Made@Derwen range of jams, chutneys, bread and cakes to the local community.
Sam also has a work placement at Severn Trent Water and is an active member of the college's Retail team.
Last year, he was even nominated for a Shropshire High Sheriff Award for his services to the community. Read Sam's story here.