On Day 1 of Love Our Colleges Week we're looking at how colleges and industry work together to support the economy. We are shining a light on the amazing partnerships we've built up with industry experts over the years. These include support from the three industry champions pictured above.
Derwen College ensures that our students follow vocational pathways that can lead to employment after college. Because of this, we work with industry champions. These are experts in their field who share their knowledge to make sure that Derwen students are learning at industry standard. We are privileged to enjoy the expertise of eight industry champions – two for each of our main work pathways.
The College has a number of business leaders who offer advice, support and training to staff and students in Retail, Hospitality, Horticulture and Performing Arts.
Our most recently recruited industry champion is Stephen Conroy. He is the catering manager at Moreton Hall School, Oswestry.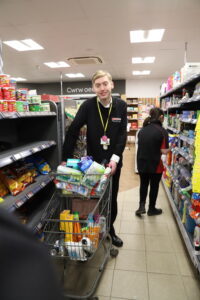 Sharing expertise
Llanfyllin Spar owner Mark Prust has been one of our champions for more than a year. He shares his experience and knowledge in retail as an 'Industry Champion' for Derwen College.
The owner of the second-generation business, says:
"I was pleased to be asked to contribute my retail experience to enhance the work done at Derwen College. I hope to be as proactive as possible in helping out with discovering and understanding latest innovations.  At Spar we are continuously looking at the latest technology and training for till systems, stock-taking and health and safety. So, this is information that we can share with college staff and students."
Neil Bevan, of Hunter Bevan marketing and graphic design company and app developers Starfish Labs, is an industry champion at Derwen College. He has partnered with the college in developing apps to support students in their employability and independence skills. He has also helped to judge skills competitions, and visits annual shows and events.
Click on the images of Neil and Mark to find out what being a Derwen College industry champion means to them.