Love Our Colleges Week
19th to 23rd October
It's Colleges Week 2020 from 19th to 23rd October. Derwen College is very happy to share the love across college, and with other FE colleges who share our passion for learning.
There's a different theme each day covering the achievements, challenges and relationships that are so important to colleges.
We've got lots of activity across college, so look out for us on Facebook, Twitter and Instagram along with hashtags #LoveOurColleges #CollegesWeek.
We'll be highlighting what college students and staff are doing in their individual pathways in Hospitality & Housekeeping, Retail, Horticulture, Performing Arts and Work Skills.
Each day we'll be focused on a different area of importance for colleges.
As well as this, we'll be shouting about all the wonderful things that go on at college every single day in developing learning, work skills, independence and social skills. Sharing students' stories and outcomes #LoveOurColleges
Monday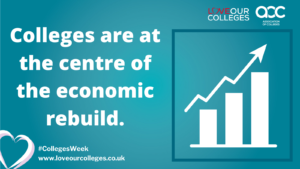 We'll be looking at Derwen's contribution to the economy. We are lucky to work with industry champions who ensure students' skills meet up-to-date industry practices. Meet some of our industry champions and find out how we work together.
Tuesday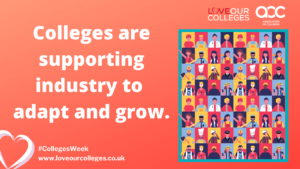 Growing and supporting relevant sectors and industries is a vital part of training our students into employment. Head of Curriculum, Zoe Wood, explains how Derwen College adapts to always remain relevant, and up to date with employment opportunities for students.
Wednesday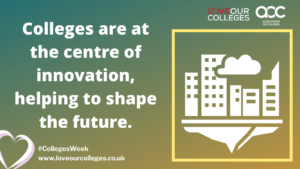 Derwen is very proud of our achievements in innovation and the use of digital technology to support students and staff at Derwen. We have created award-winning apps which support students into work, and continue to work with partners in further developing technology.
Thursday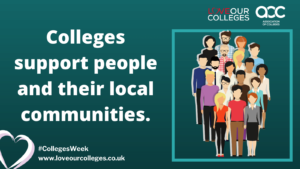 Community is at the heart of FE colleges, and Derwen is no exception. Our students come from across England and Wales and are very much part of their local, and the Shropshire community. Derwen has its own Garden Centre Shop, Café, Print Shop and training hotel which welcomes customers from the community. We also take part in community events. Derwen has a regular stall at Oswestry market where we sell our Made@Derwen produce whilst raising awareness of the college.
Friday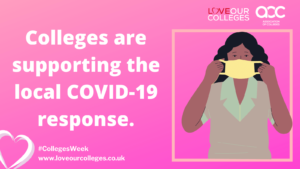 We end the week with a focus on how colleges have responded to the Covid-19 pandemic. It's been a challenging year. However, we are proud of how students, staff and families responded to new ways of learning. Find out how we adapted to supporting students at home as well as those who remained at college over lockdown. Principal Meryl Green has a message for everyone who went above and beyond during this difficult time.