The Wellbeing Centre is located in the centre of Derwen College.
The Wellbeing Centre's objectives is to:
educate and support students to access appropriate local primary health services outside of the college;
teach students about their own physical health and wellbeing needs;
ensure person-centred care is provided throughout student's college journey;
provide annual flu vaccinations [for those who qualify]; routine blood tests and annual health checks.
The Wellbeing Centre currently holds a weekly GP Clinic – Derwen College nurses triage students prior to the appointment. Other applicable therapy services, as part of the independent living skills programme, are booked via appointment only.
The Wellbeing Team
A team of qualified nurses and a skilled health support worker all experienced in delivering care to students work at the Wellbeing Centre. The team have specialised nursing skills in both the general and learning disability field.
When students start college a named nurse is allocated to them, who will support them throughout their college journey. Consequently the nurses form part of the multi-disciplinary team and attend student review meetings to ensure students receive a high standard of holistic care.
During regular one-to-one sessions with their named nurse, students receive review and update their:
personalised action plan
health passport
appropriate, easy-read care plans
Staff team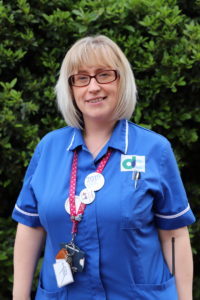 Kelly Griffiths
, RNLD Level 1
Aarona Jackson
, RN Level 1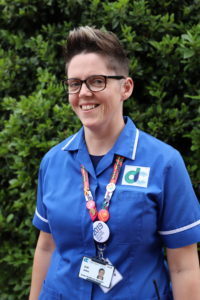 Kelli Jones
, Senior HCA, NVQ Level 3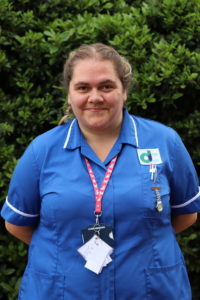 Elizabeth Bailey
, RNLD
Health and wellbeing in residences
The Wellbeing Centre team offers support to residential care staff. This includes support in the delivery of student medications alongside advice regarding general health queries. Wellbeing staff deliver regular and appropriate training to all care staff. Because of this training knowledge is kept up to date and care staff are empowered to distribute a quality standard of care to students. Similarly, the Wellbeing team audits and reviews policies to ensure practices remain current and effective.
Our Opening Hours
We are open Monday to Friday throughout term time. A qualified nurse is on-call during out of hours for any queries which may arise within the residencies, during term time (with the exception of Acorns).
Contact Us
Each of the students has a named nurse (based on their residence):
Cadbury Court; Kendall Court; Kent House and Juniper Court
---
Bungalows
---