Wellbeing Centre team are all experienced in delivering care to students.
The wellbeing team of experienced qualified nurses and a skilled health-support worker, have skills in both general and learning disability care. At the start of college a Link Nurse is allocated to each student and will support them throughout their college journey.
The Nursing Team offers:
Nursing Assessment.
Urgent Care.
Wellbeing Clinics.
Support with medication ordering and any changes.
Wellbeing teaching sessions.
Easy read health information.
Advice on diet and nutrition.
Desensitisation support around health.
Multidisciplinary team working and attending reviews.
Contraception advice.
Epilepsy support and planning.
Diabetes care and planning.
Staff training – Diabetes, epilepsy and Medication.
Nursing care plans – Longterm/ongoing conditions.
A weekly GP surgery supported by the nursing team.
Vaccinations.
Blood testing.
Talking therapies and problem solving.
All students at Derwen have the opportunity to register with the local GP practice. The nursing team encourages students to register locally, ensuring ease of access to services and ability to manage long-term illnesses. Alternatively, students may wish to remain with their current GP practice in their home area.
Medical Support
All care and vocational staff are First Aid trained and, where required, will complete the Administering Medication training.
Medication and Medication Administration Record (MAR) chart are stored in the student's safe. Care staff will administer all medication to students, unless they are able to self-medicate. Students are assessed for their potential in being able to self-medicate, or self-medicate with supervision.
Students have the option to see their dentist, optician or audiologist when they are at home, others choose to transfer to a specialist nearer College. A member of the care team can accompany students to medical appointments, unless they have asked to attend independently. Students can speak to a nurse to prepare themselves for their medical appointment (who they are likely to meet, the sort of questions they might be asked etc). The outcome of this appointment will be added to the student's health record.
Wellbeing team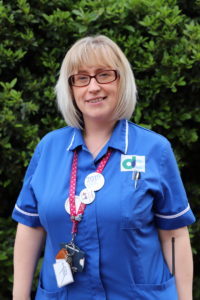 Kelly Griffiths
, RNLD Level 1
Aarona Jackson
, RN Level 1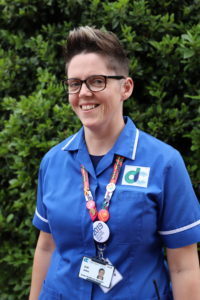 Kelli Jones
, Senior HCA, NVQ Level 3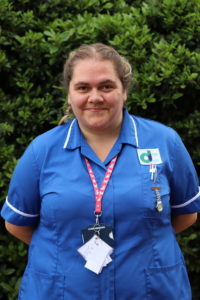 Elizabeth Bailey
, RNLD
Contact Us
Each of the students has a link nurse (based on their residence):
Cadbury Court; Kendall Court; Kent House and Juniper Court
---
Bungalows and Day Students
---
The Wellbeing Centre is open Monday-Friday 8am to 8pm throughout term-time.
A qualified nurse is on-call for care staff to contact during out-of-hours, for any urgent queries, which may arise within residences.