Leisure time is just as important as work, and at Derwen you will have opportunity to experience a range of clubs and activities seven days a week both on and off site.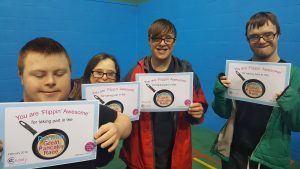 Every evening there's a varied programme of clubs: art, bike and go-kart, Duke of Edinburgh's Awards, and motor club. There are also clubs for dance, creative arts, computer & board games. So whether you have an existing hobby you would like to continue or something new you wanted to try there is a wide variety of leisure activities on offer.
When the clubs have finished you can relax in our wifi café, in your house with friends, spend time in the Student Union or in the Bradbury Centre. There are regular discos in the Student Union which are always popular and well-attended.
Students at Derwen have regular opportunities to go on organised leisure activities off-site including using the bowling, theatre trips, football matches, visiting museums and stately homes, shopping – locally and by train, going to attractions such as Chester Zoo, Cadbury World and Llangollen Steam Railway. Whatever your interests are you'll find something to suit you.
Our social programme plays an important part in helping you to build your confidence using public transport, ordering a taxi and interacting socially in the community. The wide variety of clubs provide plenty of ways to spend your free time, learn new skills, meet new friends and have fun.
The emphasis is on helping you to develop your own leisure time. With guidance from staff you will begin to take charge of your own free time and what activities you choose to do each day. As your confidence to make your own choices increases you'll rely less on staff and parents for support.
Watch a video from a trip to BBC Media City where some of the students were able to read the news to camera.