A brand new state-of-the-art hydrotherapy pool opened September 2019.

The Bradbury Hydrotherapy Pool is an essential resource for students' physiotherapy, health and wellbeing.
The state-of-the-art facility has accessible changing rooms, a physiotherapy room, and warm water pool with sensory lighting and music. Most importantly, students with limited mobility access the pool using a dedicated hoist and specialist shower trolley.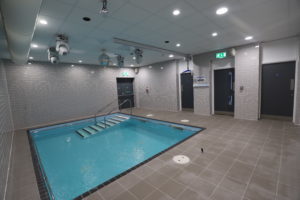 It is thanks to generous donations from that the pool has been designed and built. The facility has benefited from charitable donations from leading grant makers. These funders include The Bradbury Foundation; St. James's Place Charitable Foundation; and Garfield Weston Foundation who, between them, donated £330,000.
The hydrotherapy pool provides students with an invaluable physiotherapy resource. Additionally the lighting and ability to play music provides a positive, relaxing sensory experience.
Catherine Ind, Head of St. James's Place Charitable Foundation, said: "We are delighted to support this project. The development of the hydrotherapy pool will make a positive and long-term difference to the young people who attend the college."
Likewise, Karen Cartwright, Physiotherapist at Derwen College said: "We can't wait to start our sessions in there. The hydrotherapy pool and physiotherapy room enables our students to access a variety of exercise environments. The specialist equipment at the new facility means that we can meet a wider range of individual therapy needs. "
Derwen College is thankful to all of the following funders for supporting the hydrotherapy pool project:
Bradbury Foundation
Friends of the Derwen
Millichope Foundation
The 29th May 1961 Charitable Trust
The Hilton-Jones Charitable Trust
The Hobson Charity
The Lady Forester Trust
The Walker Trust
The Westcroft Trust