'Journey Makers' is Derwen's travel training programme.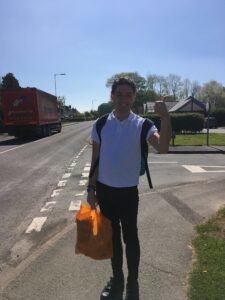 Derwen College students are automatically enrolled on to the Journey Makers programme. As part of the programme staff will support you to access the community safely.
Staff support students in any activity which involves going off campus: shopping, trips or travelling to work experience. While you are out and about staff will assess your safety and your potential ability to travel independently. A member of the Independence team will assess your ability to complete a walking, bus or train journey independently. The assessment will also check your community safety knowledge. When you pass an assessment, your care plan and risk assessment will be updated. Furthermore you will receive a Journey Makers certificate for that journey.
Please note – travel training assessment is always for a specific journey. For example, if you have been assessed for walking to/from college to Gobowen this doesn't mean you are automatically signed off for every walking journey.
Travel training is reviewed regularly in line with the government COVID-19 guidelines. It will recommence as soon as it is safe to do so.
Journey Makers 1 & 2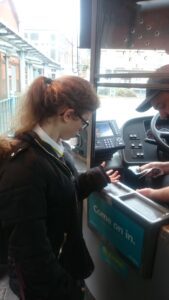 You will begin training for the bus assessment (Journey Makers 2) once you have passed your walking assessment (Journey Makers 1).
The bus assessment is a journey into Oswestry to do your shopping.
When you have passed both the walking and the bus assessments you will progress to bus/train journeys for work placement.
Journey Makers 3
As a confident, independent traveller, Journey Makers 3, the
College to Home programme
is the final step in the Journey Makers assessment. Journey Makers 3 assesses your ability to travel home from college – and back again at holiday times.
Notes for parents/carers if your young person is taking part in the Journey Makers 3 programme
Your support is vital to the success of your young person gaining the skills and confidence needed to travel in this final stage of travel training. Journey Makers 3 is a partnership between college and home.
You will be included in your young person's decision to participate in the Journey Makers 3 training.
Journey Makers 3 involves students supported on a one to one basis to travel between college and home. This will enable them to make a record of the journey each and every time they make the trip. Staff support your young person while they become familiar with the route. Issues encountered during the journey are fully explored to find solutions.
Your young person will be assessed to make the journey unassisted once both student and support staff are happy with progress. An unassisted journey means that staff will assess the student's progress throughout a journey from a distance. Staff will not interact or sit with the student – this is to replicate the unassisted journey.
Consequently, if your young person is assessed as not yet ready to travel independently, they will continue with the supported journey.
Students who pass the unassisted journey assessment will be able to independently make the journey home. The time of the journey will be at the agreement of the college, student and parent/carer.
Please note that assessments take place in term time, usually on a Friday. This enables your young person to stay at home for that weekend.
When your young person has passed the assessment they will be able to travel unassisted between college and home at the half term, and full term holidays.
If you would like to get in touch with the Independence team, please contact 01691 661234 ext 270:
Helen Owen – Independence and Personal Development manager
Tabetha Crinson – Independence Coordinator & Travel Trainer