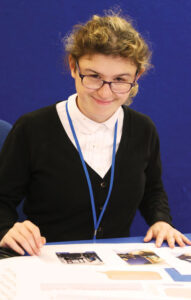 At Derwen College you will have opportunity to explore a variety of different career opportunities, this will help you to prepare for life after Derwen College.
As well as working within our pathways/programme, you will have taught career sessions.
You will learn about skills and qualities needed in the work place, how to present yourself at work and you will create your own CV using our award-winning CV builder app.
In 2020 the government told all schools and colleges that they must provide an excellent careers education for all students. At Derwen College, we have a Careers Strategy and a Careers Policy in place to make sure we are achieving this. We want all our students to have access to an excellent careers education. We do this by using the Gatsby benchmarks and the Matrix Standards review.
We have a team of staff dedicated to making sure that we provide an excellent careers education programme. This will start with our admissions team, who will help you to choose the most appropriate pathway/programme to support your aspirations for the future.
Once you are at Derwen College, the team will support you throughout your time here, making sure you are ready for transition from Derwen College.
We are proud of the journeys our students make once they leave Derwen College, many of our students will move towards paid or voluntary work, supported living and will be active citizens within their community.
Here are some highlights of journeys past students have taken after they have left Derwen College.
For more information about what our past students have achieved, please click to visit Student Outcomes