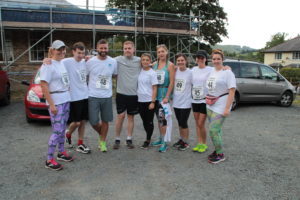 Two former students were very welcome surprise additions to Derwen College's Lake Vyrnwy Half Marathon team effort on Sunday, 8th September.
Team Derwen comprised of 10 staff and friends along with former student Adam Ffoulkes-Fenner who travelled all the way from Croydon to complete the 13.1 mile race. Adam, who completed his time at the specialist college in July, ran the race in a brilliant time of 1 hour 49 minutes, despite having never run anywhere near this distance in the past. He was accompanied on the challenge by Derwen College Sports Co-ordinator Steve Evans.
Another former student George Raffle, a member of Altrincham and District Athletics Club, completed the course in 1 hour and 43 minutes.
For the rest of the team, it was more about completing the course than for records set. The entire team ran, jogged, limped and walked the course around the picturesque mid Wales lake, with everyone making it to the finish line in more or less one piece.
Horticulture teacher Paul Moss returned from injury to finish with a great time and Senior Safeguarding Manager Paul Bradshaw was delighted to complete his first ever half marathon. Other Team Derwen participants were Ffi Lewis, Liv Evans, Eluned Watson, Steve Evans, Sarah Bennett, Siobhan Williams, Erin Fletcher and Rosie Keaney.
Team Derwen were raising funds for Derwen College Charity, and have already accumulated £900 of their £1000 target. The money will go towards supporting students with special educational needs and disabilities in their learning, work placements, wellbeing and independence.
Fundraiser Anna Evans thanked the team and Lake Vyrnwy Half Marathon race director Janet Roberts.
She said: "Thank you so much to everyone in Team Derwen who took part in the Lake Vyrnwy Half Marathon. Each and every one completed the race and did Derwen College proud. It was made even more special by having two ex-students take part as well. Well done Adam and George!"
If anyone would like to support Team Derwen's fundraising then please go to http://bit.ly/LakeVyrnwyHalf