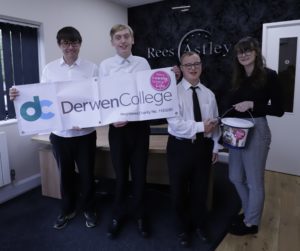 Challenges involving spiders, slime and a zebra-print sofa have helped a Shrewsbury-based firm of Insurance Brokers to raise more than £250 for Derwen College, near Oswestry.
Rees Astley Insurance Brokers, whose offices are located in Sweetlake Business Village, ran 'I'm a Celebrity'-style Bush Tucker Trials at Shropshire Oktoberfest. The challenges raised funds towards new health and leisure facilities for students at the college for young adults with learning difficulties and disabilities.
Students Jamie Bullock, Alexander Thomas and Sam Innes visited marketing assistant Becca Dean at the Rees Astley Shrewsbury office to thank her and the team for their hard work and support.
Becca Dean said: "It was our second year at Oktoberfest, and we made the decision to go bigger and better than last year, launching the Rees Astley Bush Tucker Trials – as sometimes Insurance can be a jungle!
"Visitors to our stand had to take part in a daunting trial which included spiders, slime and a zebra sofa, all to win a prize from our wheel of fortune, whilst also raising money for a wonderful local charity; Derwen College."
"With donations from generous 'contestants', we were delighted to have raised £264.38 for Derwen College, who do amazing work for young people with learning difficulties enabling them to learn and achieve their aspirations."
Derwen College, in Gobowen, is a specialist college for young adults with learning difficulties and disabilities. The college offers students the opportunity to learn new skills in real work environments and to learn life skills which will enable them to live as independently as possible.
Derwen College is raising money towards a new hydrotherapy pool as part of the college's fundraising campaign for the Therapy and Fitness Centre project.
For more information on Derwen College visit www.derwen.ac.uk