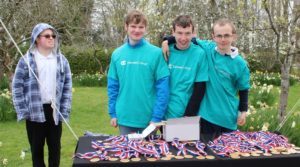 More than 300 walkers, runners, children and dogs congregated at Derwen College in Gobowen for the annual Sponsored Walk which this year included the first official Fun Run.
Students, families and members of the community opted for a 10km, 6km or one mile route for the fundraising event on Sunday, 31st March.
Nearly 250 walkers, 40 runners, 19 children and 11 dogs tackled Derwen Sponsored Walk and Fun Run on a bright Mothering Sunday morning.
Runners included some brave 10km first timers, and some who were using the course to train for more serious races over the coming weeks.
Walkers included staunch walk supporter Olive Morris who raised more than £700 for her 51st sponsored walk.
Finishers received a hand-made medal created by students at the college for young adults with learning difficulties and disabilities. Mums were also presented with a flower from the Derwen College Garden Centre to celebrate the fact that it was Mothering Sunday.
Fundraiser Anna Evans said she has delighted with how the event had gone.
She said: "There was a lovely atmosphere on the day, with lots of smiling faces despite the sore feet! It was fabulous to see so many runners taking part in the event, and to welcome back regular walkers including former students and members of the community. We'd like to thank all the volunteers, walkers and runners who made the event such a wonderful success and supported Derwen College Charity. The 2019 walk and run looks set to be another bumper fundraiser."
There is still time to donate to Derwen College Charity and sponsorship money is still coming in. We'll update you on social media with our fundraising news as it happens. To find out about all the ways that your money benefits students at Derwen College click here.
See more photos on our Facebook page