Staff at Derwen College were presented with certificates after achieving specialist diplomas in teaching students with learning difficulties.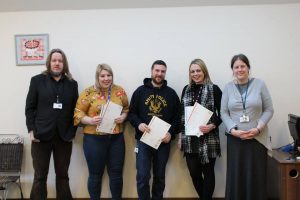 Teaching staff Jade Harris, Tim Galashan, Sam Brown and Sioned Davies completed the Level 5 City & Guilds 6503 Specialist Teaching Diploma course which brings deeper understanding and research to their teaching knowledge and encourages them to focus on individual student needs and inclusive teaching methods and strategies.
The qualification was completed over one academic year and was tutored by specialist teachers Helen Pocknell and Iain Evans.
The qualification requires teachers to undertake research into learning difficulties and disabilities, and examines the history of special needs legislation, policies and practices.
Iain said: "The course allows teaching staff to focus on specific disabilities such as autism, dyspraxia or dyscalculia. We are very proud of the achievements made by Jade, Tim, Sam and Sioned. It has been valuable to witness their ongoing development and to see how the knowledge and strategies they have gained goes on to be used in their teaching and support.
"We are lucky at Derwen to have valuable resources that we can utilise, including input from our speech and language therapists and occupational therapists."
Derwen College is running this specialist teaching diploma course again from September 2018.
For further details about the course and how to book, contact our HR department on 01691 661234 Ext 247 or email learnwith@derwen.ac.uk