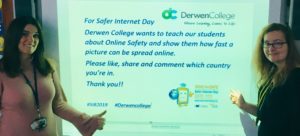 Derwen College staff and students will be supporting Safer Internet Day on 5th February with a look at the power of social media. The college is sharing a photo on Facebook in a bid to see how many people like and share it, and how far it will travel across the globe.
Visit our Facebook page and please like and share the photo across social media to show our students the far-reaching power of the internet. Please let us know where in the world you're from too and include hashtags #SID2019 #DerwenCollege
Other activities for Safer Internet Day will include a password game, poster design and video reporting.