Green-fingered horticulture students have completed work to design and create an eye-catching traffic roundabout in Baschurch, near Shrewsbury.
Baschurch Parish Council chairman Jonathan Carr met with students from Derwen@Walford. He thanked them for their hard work transforming the weed-ridden island into a roundabout to proud of.
Students from Derwen @Walford – a satellite site of national specialist college Derwen College – carried out the work for Baschurch Parish Council as part of their college business Leaf It To Us.
Leaf It To Us provides work experience opportunities for horticulture students with special educational needs and disabilities (SEND). The team work four days a week with teacher Ruth Braddick and Learning Support Assistant (LSA) Dan Foster.
LSA Dan Foster said: "John asked last year about doing something new and different for the roundabout. We were pleased to take him up on the offer. It was great to be given free rein from conception to creation. It was an over-grown bed full of weeds. The only specifications were that we leave the daffodils which have become a well-loved spring feature, and planted a Rowan tree in the centre. Apart from that we had a blank canvas which we were able to design, plant and now maintain."
Collaboration
The design brief was that the roundabout look good all year around, so the team incorporated elements of evergreen, along with lavender and ornamental grasses.
Taking everyone's input into consideration, students used their learning in horticulture as well as maths skills to measure the area and work out planting. Working on a roundabout also brought its own challenges, with staff and students constantly aware that they were working in a public place surrounded by traffic.
"We had so many lovely comments from drivers and neighbours who would often stop by and thank us for what we were doing," said Dan.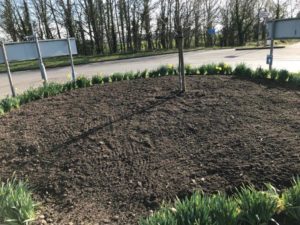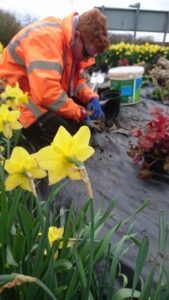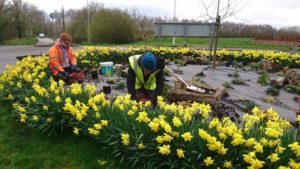 Cllr Carr said: "We are delighted with the work the Leaf It To Us have done. They were commissioned as part of a community project, and the community have noticed and appreciated their efforts. 5000 vehicles a day drive around this roundabout, and see what the Leaf It To Us team are capable of. Baschurch Parish Council is delighted to have worked with Leaf It To Us and to see what they did with the blank canvas. We are pleased with the brilliant results which look great but are also practical, low maintenance and adapted to all seasons. We look forward to continuing our work with them."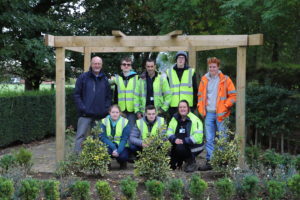 Cllr Carr and the team also visited Baschurch Cemetery Memorial Garden where they have created beds and a pergola with climbing plants. Plants were chosen with a connection to memories and the divine including Heaven Scent Magnolia and Dianthus Memories.
Leaf It To Us
Leaf It To Us other projects have included work at Leaton Church as well as some emergency missions in the local community.
Mr Foster thanked Shropshire Biomass Fuel who donated the bark and Worfield Plants who supplied the plants.
He said that the work placements were invaluable to students giving them real work experience in preparation for future employment.
He commented: "Some of our students complete horticulture qualifications during their time with us and all of them gain skills, knowledge and understanding of how you work effectively in a team to get a job done – skills that future employers really value. We are proud of our young people but also proud to be supporting the local community."