There's no loafing about for industrious students at Derwen College, because they are delighted to be ambassadors for national Real Bread Week.
Students at the specialist further education college, in Gobowen, near Oswestry, have been busy kneading, proving and baking home-made bread to support the week which runs from 22nd February to 1st March. They have been asked to share their story with Real Bread Week as part of their Together We Rise campaign.
See our breadmaking video here.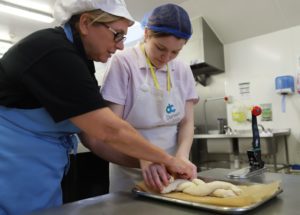 Bread making is one of the catering skills; a skill that that they learn in preparation for employment.
Fresh loaves and rolls are also sold by Retail students at the college's on-site Garden Centre Shop.  and every Wednesday at Oswestry Market at Bailey Head, in Oswestry. So, from producing and baking bread, to labelling up and selling, the story of Derwen's bread, shows how the college brings learning to life.
Teacher Paula Hampson supports students through their catering and bakery skills. She emphasises that there is a lot for students to learn on many different levels. As a teacher, Paula likes to get creative with bread, experimenting with different grains and shapes to support students' learning.
She says: "The bread-making process is adapted for a range of students with different learning difficulties and disabilities. All can benefit from the process in some way, whether for their independence skills or for future employment.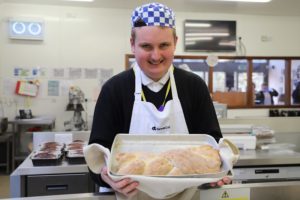 "It is a pleasure to see students' progress, and link their learning to baking for a commercial setting. Students can take pride in their produce being sold in our shop or at the local market."
Students say:
Hospitality student Carys Williams said: "I really enjoy bread baking, especially the kneading, you have to put a lot of effort into it. I like the shaping as well, as you can be creative. Today is the first time I have tried to make a plaited loaf, and it's turned out quite well."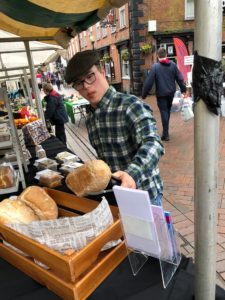 Retail student Sam Innes said: "I like working on the market every Wednesday, talking to customers and handing out samples of our home-made bread, jams and chutneys. As well improving my customer service skills, I help with the produce display, handle money, and encourage customers to come to our stall."
For more information about Real Bread Week visit their website. To find out more about Derwen College's vocational training and independence skills learning go to www.derwen.ac.uk. To discover more about the college's food centre, garden centre and shop, restaurant and cafe go to www.visitderwen.co.uk