Derwen College hospitality students are perfecting their catering and table laying techniques hoping to impress judges in the finals of a national skills competition.
Students Adam Ffoulkes-Fenner and Carter Gough have made it through to the Inclusive Skills national competition final at WorldSkills UK at Birmingham's NEC on 17th November. WorldSkills UK Live is the UK's largest interactive apprenticeships, skills and careers event.
The duo will be demonstrating their skills in catering and restaurant service after winning Gold in their categories in the West Midlands regional finals which was hosted by Derwen College – a specialist college for young adults with learning difficulties and disabilities.
Adam will be showcasing his catering skills with a breakfast theme of bacon, cream cheese and pesto bagel, granola with Greek yogurt and strawberries and pancake with mixed berry coulis. He will also be asked to prepare a fruit bowl using a selection of fruit chosen by judges.
Carter is demonstrating his table laying skills with a sophisticated silver Winter Wedding themed table for two. The dramatic table will include spotless silver cutlery and white crockery finished off with white roses and some Christmas sparkle. To complement the sense of occasion, Carter will be dressed in a shirt, bow tie and white gloves.
Catering finalist Adam – whose ambition for the future is to be a chef – said he was thrilled to be going to the competition.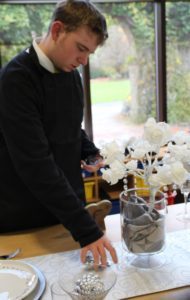 He said: "In the regional finals I just did my best and didn't expect to win. I am very excited and nervous to be in the national finals and have been working hard. My parents will be coming from London to watch me, too."
Teacher Graham Perry ­­– who has been training Adam and supported him towards the final – said he was extremely proud of his efforts.
He said: "These students have done phenomenally well to get to the final of this national competition. I am very proud of the work they have put in and how far they have come in their time at Derwen through their hard work, ambition and enthusiasm."
Derwen College principal Meryl Green said: 'We are so proud of Adam and Carter – reaching the finals of this extremely tough national competition is a massive achievement and clearly shows the level at which they are working – the atmosphere at the NEC on finals day will be electric and they will have to master their nerves as well as perform to their very best under pressure ­– we wish them, and the staff team supporting them, all the very best."
Inclusive Skills Competitions enable young people with learning difficulties and disabilities to showcase their work skills and growing independence. Working in partnership with WorldSkills UK, Natspec – the lead organisation for specialist further education – has developed the Inclusive Skills Competitions programme.
For more information regarding Derwen College and the vocational pathways and work experience opportunities that we offer click here or telephone 01691 661234 for information.