We are delighted to confirm this fantastic opportunity for learners with learning difficulties and disabilities to take part in competitions at The Skills Show, Saturday November 21st 2015.
The competitions will be in Cabinet Making and Data Processing
Find a Future, in partnership with Natspec, AoC and AELP have selected two Abilympic competitions and have tailored the criteria to challenge UK learners with learning difficulties and disabilities who are working at or towards level 1.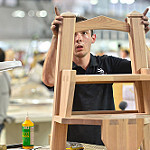 You can see from the Abilympics link www.abilympics-france.fr/bordeaux2016 that there are competitions in a range of skill areas.  We have taken the decision to select from the range described as 'basic' as we believe it is about ability rather than disability – we are keen to develop an inclusive approach for learners who, due to their disability and or learning difficulty are studying at lower levels.
After The Skills Show, we will be looking at the possibility of taking a small team of individuals to Abilympics in Bordeaux in March, to observe and potentially to take part in the competitions.
Entry criteria
Contestants must be:
aged 16 to 25
working at or towards level 1
able to provide official written evidence of their disability
Please express your interest to laura.jones@derwen.ac.uk 01691 661234 by 16th October – spaces are limited so allocation will be on a first come first served basis. Laura will be able to give you more detail and take you through next steps.