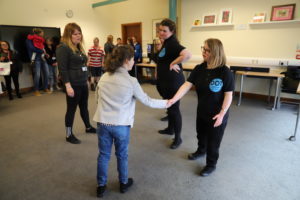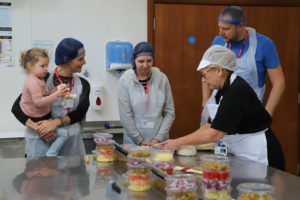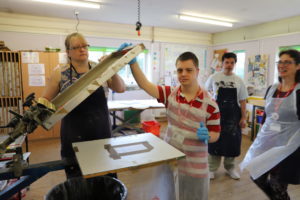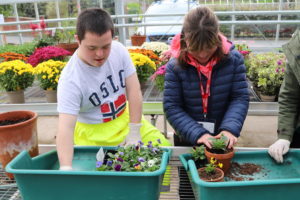 Derwen College was delighted to welcome 26 families to the college's autumn term Open Day.
Visitors from across the UK attended question and answer sessions, spoke to expert staff across the college's vocational pathway areas, and enjoyed have-a-go activities.
Staff and students from Hospitality and Housekeeping, Retail, Horticulture, Creative Arts and Works Skills areas showcased the college's vocational learning. Pot planting, bread making,  screen printing and a workshop with sign, song and dance group Derwen on Tour (DOT) were just some of the hands-on activities available for prospective student to try.
Families were also given a tour of the college's new hydrotherapy pool, training Hotel 751, day provision, residents' accommodation and shopping and leisure areas. Staff and students were on hand to answer questions and to tell prospective families about independence skills learning, Student Voice, and sports and leisure facilities. The Admissions team were kept busy answering questions about how and when to start the assessment process.
It was also Open House at the college's Short Breaks facility which offers a social holiday experience, independence skills learning and respite to young adults. Guests visited the accommodation and spoke to specialist staff about the opportunities provided by our Short Breaks.
Open Day co-ordinator Amy Snow said she was very pleased with how the day had gone, and delighted to meet so many families who were interested in Derwen College as a post-16 option.
She said: "We had 26 young people represented at the college, with some families travelling from as far afield as Kent and Buckinghamshire. We had many great comments and lovely feedback from those who visited; about how they felt they were welcomed, informed and supported in their journey to find the right college placement."
The next Open Days will be held on 4th March and 17th June. For more information telephone Admissions on 01691 661234 or email [email protected]