Derwen College and the Shropshire business community pulled together to create a National Careers Week that exceeded expectations, providing invaluable information and experience to students with special educational needs and disabilities (SEND).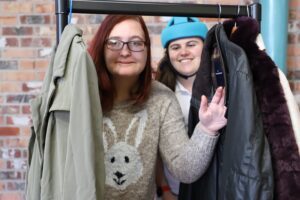 Despite the challenges of a pandemic, the specialist further education college, near Oswestry, brought together national competitions, activities and information, thanks to support from county business leaders.
National Careers Week, from 1st to 6th March, saw Derwen College host national skills competitions event SkillsLive@Derwen, where students with SEND demonstrated impressive work and independence skills. The industry standard competitions welcomed students from Manchester, Merseyside, the Midlands, Hampshire, Surrey, Devon and Wales to showcase their capabilities in hard-fought virtual competitions.
The College was privileged to call on expert industry judges to assess student skills in Hospitality, Horticulture, Performing Arts, Work Skills, Functional Skills and Independence.
Aico
, and Heather Noble from Gobowen-based business training and coaching company
Salt Solutions
, shared valuable advice with students.
The business community also stepped up for judging. The College thanked Whittington florist Emma Cox of Luna Bloom, Eleanor Moss School of Dance and Dawn Turner of The Dolphin Inn, Llanymynech.
Students Adehle Stafford and Courtney Battams shared their thoughts of how a supported internship at Derwen College was equipping them for the world of work.
Performing Arts teacher Jessie Vaughan entertained and informed as Dotty the Hairdresser in a video highlighting the importance of preparing for work.
Derwen College students took part in a 'I couldn't, but now I can' competition, focusing on skills they had learnt at College.

The week was rounded off on Saturday, 6th March, with a virtual Open Day, introducing more than 100 potential students and their families to the employment pathways and learning available to students at Derwen.
Derwen College Employability teacher Siobhan Williams said:
"National Careers Week is a great way of celebrating all that we do at College to promote Employability skills across our vocational pathway areas.
"We are proud to have delivered information, guidance and valuable competition experience, despite the challenges of a pandemic. Giving students the opportunity to ask questions and find out more in-depth information, as well as focusing on the future and careers will ease their transition from college.
"We are grateful to all the industry leaders who helped make the week such a success. We are thankful for the strong links we have worked hard to forge with businesses in the community.
"National Careers Week is a great opportunity for us to showcase to the wider community the skills that our students are developing at College that will equip them for the world of work."