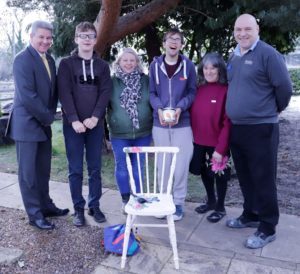 Derwen College's furniture upcycling enterprise has received a helping hand with a generous donation of paints, equipment and a top-of-the range A3 printer.
Students at Derwen College's Wrexham satellite 'Ashdale House' – a specialist college for young people with learning disabilities and difficulties – have received sponsorship from Brewers Decorator Centres for their new business, Hŵre. The nationwide painting and decorating supplier has provided the college site with all the paints, wallpaper, brushes, varnishes and sandpaper they need. They also presented them with an A3 printer.
Students and trainees at Derwen @Ashdale House, in Higher Penley, run a furniture upcycling business Hŵre as part of their vocational skills training.
Louis Eckersley-Carr, from Wrexham, and Louis Thomas are two of the young people benefiting from the sponsorship by the family business which has a branch in Wrexham. The pair, who work producing upcycled furniture and gifts to sell online and at Derwen College Garden Centre shop, in Gobowen, were delighted by the on-going support.
Sian Roberts, Satellite Co-ordinator at Ashdale House, said she was over the moon to receive the kind sponsorship from Brewers, and thanked Area Manager Laurence Zing and Branch Manager Shaun McKenzie for their backing. She also thanked Wrexham Rotary Club who first introduced Brewers to Derwen College.
She said: "This means so much to us and to our upcycling business Hŵre. The students were thrilled to receive all the paint and materials needed to transform unwanted furniture into unique statement pieces.
"For us, this is a huge deal, helping us to teach students work skills which can change lives. Louis and Louis could definitely go on to do this as a job when they leave us this year."
Area Manager Laurence Zing and Wrexham Branch Manager Shaun McKenzie said that once they heard about Derwen College, they were more than happy to help.
"Providing paint and equipment for Ashdale is a very small financial burden to us in the grand scheme of things but clearly means such as lot to staff and students. The money that they save on materials and equipment can then be better spent supporting students in other ways.
"We are a family business who are always looking to support the community. It is something that is very easy for us to do but means such a lot to the team at Ashdale. We are mindful of the simple things we can do to help, and it's lovely to be truly appreciated!"
[email protected] opened as a satellite from the main Derwen College site in Gobowen four years ago providing vocational and independence training for young people with a wide range of learning difficulties and disabilities.
For more information on Derwen College satellite sites click here.