Derwen College based in Gobowen, Shropshire have achieved Gold Standard level for their provision of Work Experience for their students for the second time.
The award was given  by Fair Train who are the owners of the national Work Experience Quality Standard accreditation. The award was presented to Abi Baker, Work Experience Co-ordinator at Derwen College by Ian Jelley, Deputy Chief Executive of Fair Train.
Students at Derwen College are able to access high quality work experience opportunities from year 1 with a range of internal quality work experience sessions within chosen programme areas and the operational and commercial outlets in college. These outlets include the Orangery Restaurant, Tiffins Coffee Shop, Young's Farm Shop, Garden Centre, Garden Café and the Walled Garden. These outlets are open to the public seven days a week and ensure students are learning to industry standard across the range of vocational studies on offer here which include Land Based Studies, Hospitality and Catering, Retail and Business Studies and Creative Studies & Personal Development.
"We are so pleased with this second Gold Award which is a reflection on the hard work, enthusiasm and dedication of all the staff here. Our aims for the students here are that they have the opportunity to access meaningful work placements, we also have a Transition Team who liaise with employers in the home areas of students as they approach the end of their learning here at Derwen to continue the learning and the opportunities" said Abi Baker, Work experience Co-ordinator at Derwen College.
The Work Experience Quality Standard is a national accreditation which provides external quality assurance for high quality work experience and employability programmes. The accreditation provides a framework for organisations to work towards, ensuring the placements they offer are high quality. There are frameworks available for employers, learning providers and facilitators, which complement each other and ensures that the learner journey is mapped consistently.
"Derwen College are accredited at Gold level with the national Work Experience Quality Standard.  This accreditation which is owned by Fair Train, recognises organisations that are leading their field with high quality work experience provision.  The work experience programme that Derwen College runs epitomises all of the elements of best practice.  It is learner focused; tailored to their individual needs, structured; to enable the learners to grow in confidence and develop employability and life skills, and well supported; with expert staff who are passionate about supporting each learner on their journey.  It is fantastic to shine a light on Derwen College's provision and demonstrate to organisations across the country that high quality work experience can be delivered for all learners.  They have truly embedded work experience into the curriculum and the benefits to learners are clear.  Fair Train is delighted to support their work and recognise their achievements with this award" said Ian Jelley, Deputy Chief Officer at Fair Train.
For more information on the work experience opportunities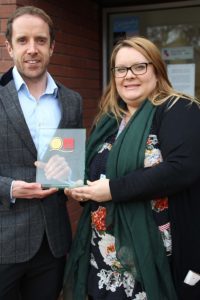 at Derwen College visit www.derwen.ac.uk/working/work-experience.