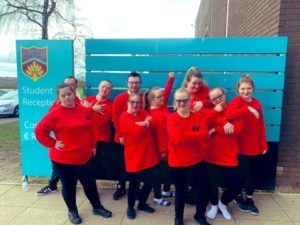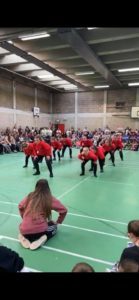 Derwen College's newly formed Derwen Dance Crew stole the show to win at a dance competition in Wolverhampton.
Derwen Dance Crew (DDC), made up of talented students from the specialist Shropshire college, entered Nexstar dance competition in Wolverhampton. The team performed as a group and with individual performances. They received a win and standing ovations from the audience and professional judges.
The group of 10 students with a range of special educational needs and disabilities (SEND) were thrilled to win first prize in the over 16s SEN Street Crew category.
In addition, students Ben Moore-Hill and Billie-Jo Bailey impressed judges when competing against mainstream dance schools. Ben won second place in the over 16s mainstream Street solo. Billie-Jo achieved fifth place in the over 16s mainstream contemporary solo.
The judges were impressed by the high standard of DDC, resulting in two of them handing out the highest possible marks for the group's performance. The win was made especially incredible as DDC was only launched in January. Students had just six weeks of rehearsal time to learn four group dances.
Derwen College Sports and Activity Maker and dance instructor Opal Trevor assembled the group and supports them in rehearsals and performances. She said she was incredibly proud of their achievements.
She said: The crew have been attending weekly rehearsals and this weekend competed in their first ever Mainstream Street Dance competition in Wolverhampton. They have worked so hard, turning up for rehearsals every week and practising between sessions. Their win was even more remarkable as they were performing alongside groups and individuals who attend professional dance schools.
"The reaction from audience and judges was overwhelming. Everyone was blown away by what these students had achieved. We received standing ovations, there were even tears! Judges described the performance as beautiful, moving and a demonstration of the diversity of dance."
Individual wins
Student Ben Moore-Hill, from Sale, near Manchester, was delighted to receive a trophy for his performance in the mainstream street dance competition. The Creative Arts student, whose speciality is the 'freeze frame' move, said he was very happy with DDC's success.
"I was emotional and cried happy tears. I was very proud to dance in front of my parents and in memory of my grandma who recently passed away," he said.
"It felt like I was a professional dancer. I have been dancing a long time and would like to do it as a career. Carrying on my Street Dancing at Derwen College has made me more confident.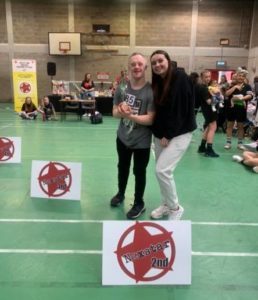 Ben has been performing street dance since he was at school and said he was pleased to be able to share his skills with Derwen College students .
"Opal has been brilliant. I can't wait to perform at College Prizegiving in front of everyone."
Creative Arts student Giverney Blomeley said:
"It's really amazing. I was nervous on the day, then so happy we won. I was crying happy tears too.
"We only started in January. It has been difficult to learn the routines but we've practised hard and worked well together as a group, To help me learn, I videoed routines on my phone so I could practise between rehearsals.  Performed four dances mashed together.
Performing Arts student Giverney is now looking forward to dancing at College Prizegiving and has started rehearsals for the College's big Summer Show.
Competition raffle sponsor Steve Baxter from Sweet Memories in Wolverhampton, was so impressed with the Derwen Crew that he donated the raffle money to DDC to help cover the costs of future competitions. A big thank you to him from DDC and all at Derwen.