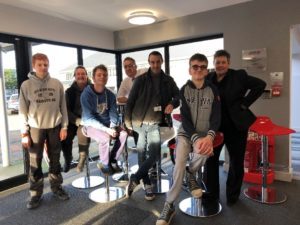 Aico Ltd welcomed students from Derwen College's Derwen @Walford site to their head office in Oswestry, Shropshire for a tour and practical fire safety workshop.
Students and staff from the satellite site in Baschurch, near Shrewsbury, visited Aico's Centre of Excellence to learn more about facilities within Aico – the market leader in fire and carbon monoxide detection.
The Aico in the Community team were approached by Liam Edwards, co-crdinator at Derwen @Walford regarding the possibility of organising some sessions and Aico in the Community worked in partnership with the team at Derwen @Walford to plan the day.
Liam commented: "It was important for us to work with Aico to link the day with employability skills, as this is an essential part of the students learning at Derwen College. The students experienced a fantastic opportunity to look at various career paths and transferable skills in the workplace".
As part of the day, Pat Jones, Sales Advisor and Louise Reid, Marketing Executive took the students around the different departments within Aico to show the different types of roles available within business environments.
Students took part in an interactive session in Aico's Ember Place, a mock bungalow created to highlight fire and carbon monoxide risks within a home. They were shown best practice for siting of alarms in relation to these risks. The smoke chamber was also used to demonstrate how alarms react to smoke, heat and carbon monoxide, to give a real life feel to the sessions and to aid with the students learning.
Ruth Braddick, teacher at Derwen @Walford commented: "The trip to Aico was absolutely amazing, a fantastic experience for the students which gave them confidence gaining knowledge of fire awareness in the workplace and their own homes. They also gained valuable knowledge of varied employability opportunities". "All of the Aico staff were very accommodating and friendly towards our students. We would like to say a big thank you to Aico for providing this experience and we very much look forward to working with the team again in the future."