Derwen College is proud to be Makaton friendly and to have a close working relationship with The Makaton Charity. But what is Makaton? Derwen asks The Makaton Charity Marketing Executive Sarah Drew some questions about The Makaton Charity.
Makaton is a language programme that combines signs, symbols and speech to provide multiple ways for someone to communicate. The use of signs can support people who have unclear or no speech. Symbols can help those who have limited speech and cannot, or prefer not to, sign.
With Makaton, children and adults can communicate straight away using signs and symbols. Many people then drop the signs or symbols naturally at their own pace, as they develop speech.
Makaton transforms the lives of those with communication difficulties by giving them a way to express themselves independently. This is is proven to overcome frustration and promote inclusion.
When was Makaton developed?
Makaton was developed in the 1970s as part of a research project by Margaret Walker, a speech and language therapist. She was helped by Kathy Johnston and Tony Cornforth. The name was invented by using the first syllables of their names.
How important is it the schools, colleges and other public places use Makaton to support communication?
Makaton is the UK's leading language programme for adults and children with learning or communication difficulties.  It is also used by everyone who shares their lives; for example, parents and other family members, friends and carers, and education and health professionals.
Makaton is used for teaching communication, language and literacy skills with children and adults who are at an early stage of communication and language development.  This structured approach can also help people who are learning English as an additional language, helping them to communicate straightaway, while also supporting their learning.
Makaton is regularly used in schools and colleges, to support communication, language and literacy skills.  Makaton symbols are widely used in public buildings such as schools, hospitals, courts and libraries, to help people find their way around.  So, you may be using Makaton in daily life without even knowing it.
How have you seen awareness of Makaton grow?
In recent years, we have seen Makaton grow enormously. We now have more than 700 Makaton Friendly organisations that make their services accessible to children and adults who use Makaton, including four Makaton Friendly Towns where the whole community has learnt Makaton. Makaton is used on television, including BBC's award-winning Something Special, Emmerdale and recently stars of Strictly Come Dancing have started signing to make the programme more accessible. We have strengthened our overseas partnerships so that Makaton is use in many different countries.
Are there any common misconceptions about Makaton?
A misconception about Makaton is that it will stop a child from speaking. However, research has shown that using signs and symbols actively encourages the development of speech and language skills.  When using Makaton we always speak while we sign or use symbols to make the link between the sign/ symbol and the spoken word.  Many children then drop the signs or symbols naturally at their own pace, as they develop speech.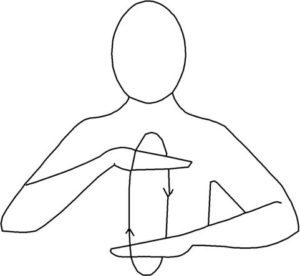 Do you have a favourite Makaton sign?
I like the sign for 'Calm', it is a relaxing sign to do and to watch!
What happens at the Makaton Study Day?
The Study Days are for our licensed tutors – they are required to attend one at least every two years for their professional development. Study Days share information and news about updates and developments at The Makaton Charity, give the tutors space to share best practice/stories/ideas/resources, and include some skills practice. We have 37 tutors booked onto our next Study Day at Derwen College plus speakers.
What made you choose Derwen as the venue for your Makaton Conference 2020?
We hold 10+ Study Days every year in different venues around the country, including some suggested by our tutors.  We thought of Derwen because of our relationship with Senior Makaton Tutor Julie Hawkins who is head of Speech & Language Therapy at the college.
What new initiatives does The Makaton Charity have planned for the future?
The Makaton Charity is currently undergoing a digital transformation which will be rolled out this year. This will improve access to Makaton signs/symbols, videos, resources and more. Through the new digital platforms that are being introduced, Makaton will offer an extensive membership package, with annual membership programmes for those that wish to become 'Makaton Friendly' partners.
The Makaton Charity would like to widen access to the Makaton Language Programme and develop and expand our community offer enabling broader usage of sign and symbols throughout communities across the UK. By increasing the wider usage of Makaton, especially in essential services such as doctor's surgeries, banks, post offices, police and fire stations etc, we aim to improve the quality of life for millions of people who traditionally have struggled to get their voices heard.