Derwen College Garden Centre and Gift Shop is set to reopen in time to officially welcome in the spring.
The team at the Derwen College Garden Centre and Gift Shop, which offers work experience to students with special educational needs and/or disabilities (SEND), has sprung into action. So, the Garden Centre reopens its doors to customers from Monday, 15th March.
The Derwen College Garden Centre and Gift Shop reopens in time for the first day of spring on 20th March. It is ready to help gardeners to enjoy the season of brightly flowered bulbs, blossoming trees, and all the prep that needs to be done for a blooming great summer. Spring is a busy time in the gardening calendar. It is the period where weeds start to grow and seeds need to be sown. Planters, pots and baskets are replenished for beautiful floral displays.
Garden Centre commercial supervisor Sharon Jones said:
"We are really excited to be opening again and to welcome visitors back in time for spring. It's the busiest and most exciting time of the year for gardeners. With that in mind, we've got all the plants and seeds needed to make gardens bloom with a boom."
"We also stock beautiful gifts and cards, many from unique and local artisan businesses. We have a food area filled with fine fare, including bread, cakes, jams and chutneys made by students at Derwen. It's the ideal place to buy spring treats and Easter or birthday gifts."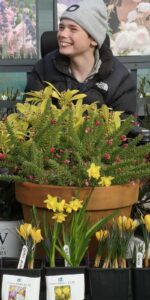 Students on the Gardens and Plant Production pathway are ensuring that the plants are at their best, as usual.  While, in the Garden Centre Gift Shop, Retail and Enterprise students have been creating stunning spring displays to tempt shoppers.
The Garden Café will be reopening for outside table service and take away on 12th April.