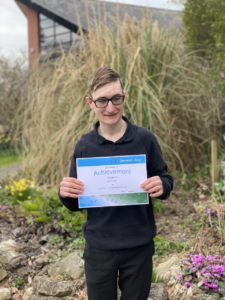 Derwen College was proud to celebrate the successes of students who have been working hard – on site or at home – over the Spring term.
We were unable to mark individual achievements in the usual end of term prize-giving, but still wanted to recognise the hard work of students who had progressed particularly well this term, with the Student of the Term Awards.
One student from each pathway was awarded a certificate for hard work and improvement over the term.
Pathway leads thanked the winners, and all students, for the tremendous efforts made over another challenging term where students have had to adapt to new ways of learning and staying safe.
The awards for Student of the Term went to:
Ethan Palmer Barber – Gardens & Plant Production
Josh Pickett – Hospitality & Food
Luke Hodge – Learning for Life
Rachel Balcombe – Performing Arts
Mary Tait – Retail & Enterprise
We wish them, and all our students, a relaxing Easter break, and look forward to a productive and fun Summer term.