Children and Families Minister Nadhim Zahawi and Owen Paterson MP recently visited Derwen College, in Shropshire, to see first-hand how a leading specialist college changes lives.
Nadhim Zahawi MP is the Parliamentary Under-Secretary of State for Children and Families with responsibilities for young people with special educational needs and disabilities (SEND) up to 25 years old.
The visit provided an opportunity for the Minister to meet with Derwen senior leadership team to discuss issues such as the Children and Families Act and its impact on young people with learning difficulties and disabilities, the future of specialist education as well as highlight the huge benefits of learning at specialist colleges such as Derwen.
The Minister also had a tour of the college meeting students at work in the Premier Inn Training Centre, Food Centre, Orangery Restaurant, Karten Print Centre and the Garden Centre.
He described the work in the Food Centre as "phenomenal" and student Millie Clarke showed the Minister how the equipment worked in the Print Centre. He also went on say how professional and fantastic the students work is in the commercial outlets.
"This was a really useful opportunity for us to discuss first-hand with the Minister and Owen Patterson MP the issues around specialist education. This visit to Derwen followed on from a meeting that we had last year with the Minister at Parliament and we will continue to drive forward change and ensure the voice of the specialist college is heard" said Ruth Thomas, Director of Strategy Derwen College.
Meryl Green, Principal at Derwen also added "It was fantastic to show the Minister around the commercial outlets at the college and for him to meet and chat with the students".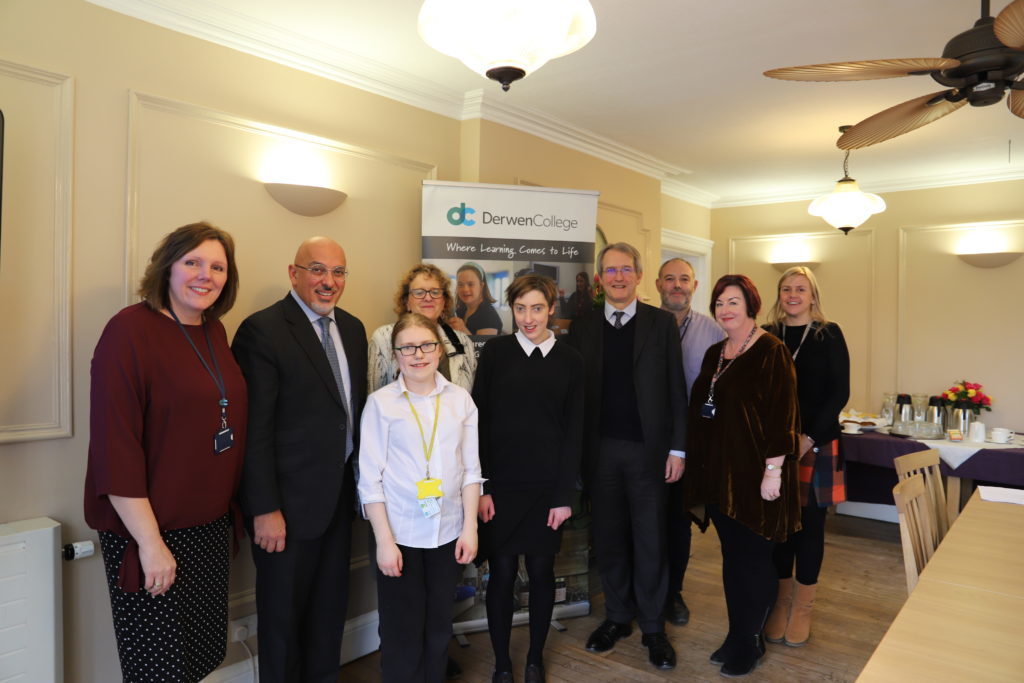 Nadhim Zahawi Children and Families Minister (second from left) meets staff and students at Derwen College with Owen Paterson MP (fourth from right)