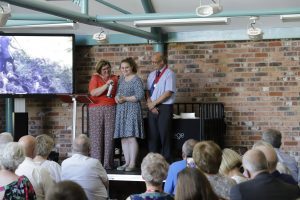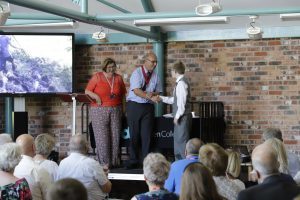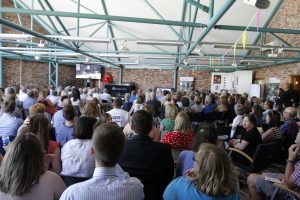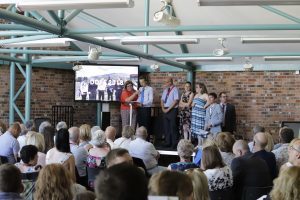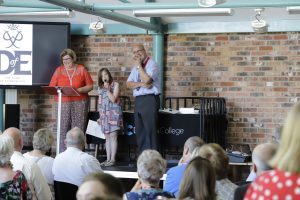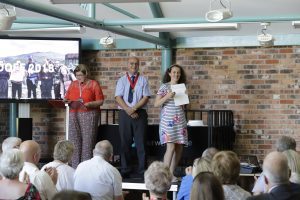 Sixty Derwen College students were recognised for their achievements in the Duke of Edinburgh's awards at a special event at the college on Saturday, 30th June.
Our learners complete their awards at Bronze, Silver and Gold levels this term, and marked their success at a Duke of Edinburgh's Award Celebration.
It was a phenomenal achievement for students – reaching the standard required for the awards takes a great deal of time and effort on the part of students and staff.
The event saw 200 people attend including students, families and sponsors. Several charities supported students' efforts donating funds for expeditions and residential activities such as a walking expedition through the Snowdonia Mountains and activities in the Lake District.
In May, five current students and two former leavers were invited to Buckingham Palace to collect their Gold Duke of Edinburgh's Awards from last year.
The Duke of Edinburgh's Awards were launched in 1956 by Prince Philip, and are aimed at developing young people's skills for life. The awards require students to choose one sport, one craft or skill and to take part in voluntary work. It has taken students six months to complete the Bronze and Silver and one year to achieve Gold.
Derwen College's Duke of Edinburgh's Award sponsors this year included The Basil Houghton Trust, Cae Glas Lodge, Fitz Alan Lodge, Lodge of St Oswald, Shropshire Masonic Charitable Association, Rotary Club of Oswestry, Elthorne-Hillington Rotary, Rotary Club of Ascot and Rotary Club of Deeside. While Shropshire Paddlesport kindly loaned equipment and supported with training.
Steve Evans, Sports Coordinator at Derwen College said: "We are very proud of the Duke of Edinburgh's Award programme we run at Derwen College; the level of commitment needed from the students, their parents and college staff is immense but it's worth all the hard work. This event was a fitting celebration of students' achievements."
"We are very grateful to our sponsors who have helped make the awards possible and to Kev Homewood of Shropshire Paddlesport who loaned us all the equipment for the Silver canoe expeditions and supported with training and the practice expedition."
Derwen College Principal Meryl Green said the college was delighted to celebrate the achievements of so many students and to recognise the dedication of their fantastic staff team.
She commented: "More than 200 people attended the event including students, families and sponsors. The number of students participating in the awards this year has been higher than ever, growing from just a handful of students when we first started offering the awards to the 60 who have been successful this year."
"We would like to thank students, staff, families and sponsors who have contributed towards these amazing achievements. The awards take a great deal of commitment to complete and we are very proud of the students and staff who put in time, effort and a lot of dedication to make this happen."