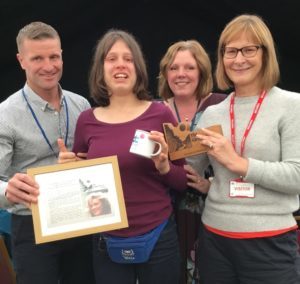 Intrepid students from Derwen College received a rapturous reception at a Duke of Edinburgh's Awards Celebration Ceremony on Saturday, 6th July.
There was laughter and tears at the special event which saw students from the college, near Oswestry, receive accolades for their Duke of Edinburgh's Awards. 200 guests attended the celebration  including families, sponsors, supporters and VIPs including Deputy Mayor Cllr Duncan Kerr.
Creative Arts sign and dance group DOT (Derwen on Tour) performed to the packed out audience, and students served drinks and canapes. After that, certificates and awards were handed out by deputy mayor Cllr Duncan Kerr and James Bjcer, Operations Manager at the DofE for the Central England Region.
Derwen College students and staff have faced wet weather, blisters and nights under canvas for challenging expeditions. Students also volunteered and learnt new crafts and skills.
44 students from the specialist Shropshire college have been training for their Bronze, Silver and Gold Awards on practice expeditions covering many miles of road, canal and lake. Expeditions have taken them across England and Wales including across Pontcysyllte Aqueduct into Chirk, Llangollen canal, Lake Bala and Snowdonia.
Steve Evans, Duke of Edinburgh's Awards leader and Sports Coordinator at Derwen College, strongly believes that the D of E programme complements Derwen College's vision to create 'an enriched learning environment that enables students to transform their lives for the better.'
Steve said: "The D of E programme is challenging and gives students the chance to develop skills for life and work. It promotes independence, pushing young people out of their comfort zone."
"Our students have additional needs such as autism, physical disabilities and communication difficulties. Despite this, they go above and beyond to achieve.
"We see our young people come through the programme with raised self-esteem and increased confidence. As well as gaining a nationally recognised award, achievement of the D of E shows commitment and dedication whilst developing problem solving, independent thinking and leadership attributes; skills that the students can use in other areas of life."
David Towers, Charity Steward of the Lodge of St Oswald that sponsors the Derwen College Duke of Edinburgh's Award Scheme along with Fitz Alan Lodge and Cae Glas Lodge said: "Achieving the Duke of Edinburgh Award gives the students such a great sense of personal confidence to help them take the next steps in their lives. It is essential that the Derwen College continues to receive sponsorship such as that from the Oswestry Freemasons' Lodges".
"I follow the adventures of the students on Twitter as they face and conquer the challenges involved in achieving the Award. They are often in the wild on mountains during gales and driving rain but always with smiling faces working as a team. It is a privilege to be at the ceremony to share in their joy as they are presented with their well deserved awards."
Derwen College Principal Meryl Green said the college was delighted to celebrate the achievements of so many students and to recognise the dedication of their fantastic staff team.
She commented: "The event highlighted the amazing achievements of our Bronze, Silver and Gold teams. It clearly showed the significant personal challenges that many of our young people overcome to take part in this scheme and the fantastic benefits they get from it in terms of skills, team working and confidence.
"A huge thank you to all the staff directly involved in supporting the students with this scheme and on the gruelling expeditions. Saturday afternoon was an example of Derwen College at its very best."
The event was attended by sponsors including Cae Glas Lodge​​​​, Fitz Alan Lodge​​​, Lodge of St Oswald, Shropshire Masonic Charitable Association, The Basil Houghton Memorial Trust​​, Bromsgrove Rotary, Wrexham Rotary; partners Shropshire Paddle Sport; DofE Operations Manager James Bajcer, Deputy Mayor Cllr Duncan Kerr and Cllr Nick Bardsley.