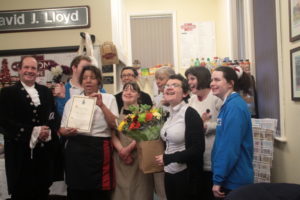 Teresa Richards, who runs Station Café in Gobowen on behalf of Derwen College, received a surprise visit from some very special customers this week.
High Sheriff of Shropshire Rhoderick Swire visited the Station Cafe on the Gobowen railway station platform to present café supervisor and Derwen College learning support assistant Teresa with an award. The High Sheriff Award was presented in recognition of Teresa's tireless work and continued commitment to the popular Station Café.
Gobowen Station Café is run by Derwen College for independent not-for-profit rail agency Severn Dee Travel, providing work experience opportunities to students training in Hospitality.
Derwen College Principal Meryl Green and Sheila Dee, Community Rail Officer at Severn Dee Travel, were also among those who attended the certificate presentation.
Rhoddy Swire said: "When the Derwen College leadership team put Teresa Richards' name forward for this accolade, I was very happy to make such an award. What an outstanding lady Teresa is!"
Teresa has worked at Derwen College's Station Café for three years and prior to that as a teacher in the catering department of the college at the main site in Gobowen for 13 years.
Teresa said that she was moved by the unexpected accolade.
"It was such a fabulous surprise. I can't wait to put my certificate up on the wall in the café," she said.
"It was so lovely to have everyone – staff, students, customers and community partners – all involved. This award is recognition for everything we do here and the support we receive from the community, as well as providing valuable work experience for our students. It is important for students to engage with customers in the community, and it's a great asset for Gobowen too. We all work together and are all constantly learning from each other. It's a lovely place to work."
Derwen College Principal Meryl Green said that the college was thrilled to be able to nominate such a worthy candidate.
Meryl Green said: "What a difference one person can make! Teresa runs the Station Café which is providing invaluable work experience opportunities Monday to Friday for Derwen's Hospitality and Customer Services students. Teresa forms great relationships with the students and this provides an excellent base for learning.
"Under Teresa's guidance the students are learning work-ready and independence skills through making and serving drinks, snacks and lunches, dealing with payments and developing people skills when serving customers. These skills are essential in order to prepare students for future employment after college. They are supported, encouraged and trained by Teresa whilst she is at the same time running this busy outlet."
The Station Café was provided to Derwen College from Severn Dee Travel who run the ticket office at Gobowen train station. They saw this as a great opportunity to involve students from the college some six years ago. Teresa has formed an outstanding relationship with Severn Dee Travel demonstrating an understanding of their needs as a business, a local organisation in the community and work experience provider for the college. This has led to some amazing partnership work including nominations and awards from Association of Community Rail Partnerships (ACorp).
Derwen College, in Gobowen, is a specialist college for young adults with learning difficulties and disabilities. The college offers students the opportunity to learn new skills in real work environments and to learn life skills which will enable them to live as independently as possible. The college has received three consecutive 'outstanding' Ofsted gradings. For more information go to www.derwen.ac.uk.