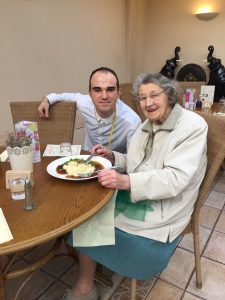 At Derwen College we were privileged to host regular customer Betty Williams as part of her 90th birthday celebrations which coincided with Derwen's 90th anniversary year.
Staunch Derwen College supporter Betty was born in 1927 – the same year that Dame Agnes Hunt founded Derwen – so it was a great honour to welcome her back to the college's Orangery Restaurant to mark her ninth decade.
Since then, we have received the sad news that Betty has passed away. Betty will be sadly missed by staff and students at Derwen College who grew to know her over the years. Our thoughts are with her family.