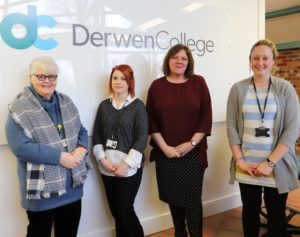 Six members of Derwen College staff have clocked up a total of 70 years work between them this term.
We are pleased to congratulate these dedicated employees, who work across different areas of the college, and all receive long service recognition this spring term.
Sam Brown, Quality Manager; Sophie McCulloch, Care Support Worker; Abi Baker, Work Experience Co-ordinator; Kerrie Price, Supervisor; and Jade Harris, Support Practitioner/Coach are all marking a decade working at the college, while student counsellor Deidre Mitchell has been at the college for 20 years.
At Derwen College we hope to offer opportunities for staff to expand their knowledge and expertise through training and work. Work Experience Co-ordinator Abi Baker started in 2009 as a Learning Support Assistant (LSA).
She said: "I have really enjoyed my 10 years working at Derwen College. I began my time here in the Hospitality department as an LSA supporting students in the restaurant, meeting rooms and housekeeping areas. I then undertook my teaching and Special Educational Needs (SEN) qualifications which were a difficult challenge for me. From there, I moved over to the external work experience area where I took students out to work at various locations. Since then I have progressed to Work Experience Coordinator and now manage a small team of brilliant job coaches and arrange students external work experience placements linked to their vocational training.
"I am so proud of all the students I have had the pleasure of teaching and working with over the years. I look forward to many more years working at Derwen College."
Derwen College Principal Meryl Green thanked the staff for their commitment to the college.
She said: "We are pleased to show our appreciation to these employees who have reached important milestones in their careers. We value the contribution they have made over the years. It is the hard work and dedication of our staff that help to make Derwen College the success story that it is."
To find out more about working at Derwen College click here.