Cerys is a day student following the Creative Arts pathways at Derwen College. She is most at home when performing and is a member of the college's sign, song and dance group DOT (Derwen on Tour). She played the lead role of Peter Pan in the College's Christmas show.
We asked Cerys and her Mum about what first attracted them to Derwen and whether it has lived up to their expectations.
Why did you want to come to Derwen College?
Mum: In preparation for Cerys transition to post 16, I searched the NATSPEC database for the course she really wanted to pursue, something to do with the performing arts, and found only a handful of specialist providers that were able to meet her medical needs and also offered a true performing arts qualification.
When we visited and I found out more about the college I was inspired by the ethos of Derwen. The students were an integral part of the college with pathways providing practical work skills rather than all classroom based learning. We were looking for a Uni for Cerys's sister at the same time and it was wonderful to see the campus student experience echoed at Derwen. A Student Union building/cyber centre in the Bradbury/ residences which provided progression as students grew in independence from shared bigger houses to smaller bungalows and flats which reflected the supported living in the community. We felt Cerys would thrive at Derwen and we were right!
Cerys: I wasn't sure at first but visited and really liked the Performing Arts department
How did you feel when you first started at Derwen?
Cerys: Nervous and worried, it was very big but student services team helped me feel safe. It took a while to get to know and trust people and find my way around.
What do you most enjoy about Creative Studies?
Cerys: I really like the staff they really help me. I do DOT and really enjoy the panto and summer shows. I played the lead role in the Christmas show – Peter Pan, I had a lot of lines to memorise. It was my dream to play the lead role in a Panto.  I love performing.
What things do you enjoy most about life at Derwen?
Cerys: Seeing my friends and hanging out with them. I have some friends at Derwen. The staff have helped me when I have struggled to know how to be with my friends. We hang out together and talk about lots of things. We sometimes go on trips together and they come to Corner House (day student area) for lunch.
How are you supported in Corner House?
If I have a problem I know who I can talk to about it and they help me think about what I can do to sort it out. I know if I have a seizure that the staff know how to look after me and when to give me my medicine which helps me feel safe. Being on the Student Union Board has helped me feel much more a part of the Derwen College as I sometimes feel I miss out on college life being a day student.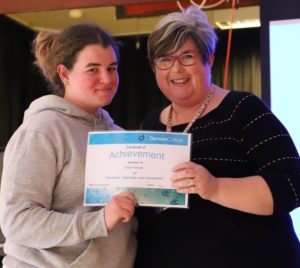 Can you describe a typical day as a day student?
At 8 o'clock, I leave home with Mum and come into college. I sign in at Day Students then I meet my friends. At 9am I go to work, these change every day my favourite sessions are BTEC Performing arts, Screen printing, DC Narrators and Derwen on Tour (DOT) practice. 10.30am,  its break , this is when I got to the Student Union and meet my friends, we can have a drink there. 11.00am, it's back to work. 12.30pm it's lunch in Corner House (day students area). When I am on Independent Living Skills session I make lunch for all the day students. 1.30pm back to work. 3.30pm final break. 4pm enrichment time –  I chose Female football, Arts, Move & Relaxation and Student Union Board meeting. 5pm I meet Mum, as it's home time.
What you would you like to do when you leave Derwen?
I would love to work backstage as a director or costume helper. I would like to be in supported living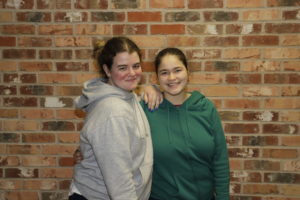 What have you learnt over your time at Derwen?
Cerys: I think I have changed and I have learnt loads of stuff at my time in Derwen mostly in ILS (independent living skills) like money handling, making baking stuff and in Creative studies I have learnt Performance skills. I have learnt to be more confident in myself and being on the Student Union Board has helped me with my team work.
Mum: Cerys has grown so much over her time at Derwen. She is so much more confident in her social interactions and her self belief. She is able to manage some of the emotions that used to overwhelm her. She has learnt to articulate her feelings, sustain friendships, have pride in her work but most of all have pride and belief in herself. Cerys has a clear vision of where she wants to go in life and Derwen College was the springboard to get her there.