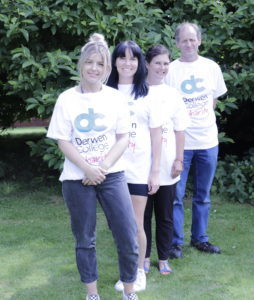 Olyvia Evans is one of a team of 10 from Derwen College who are running Lake Vyrnwy Half Marathon. Team Derwen will be taking part in the run on 8th September in aid of Derwen College Charity.
We asked learning support assistant Liv to tell us a bit about herself and her motivation for taking part.
What is your running experience?
I completed the Lake Vrynwy Half Marathon two years ago for Derwen College. That has been the only running experience I have had since leaving school!
What do you want to achieve by taking part in the Lake Vyrnwy Half Marathon?
I am taking part again as it's a great opportunity to raise money to help benefit our students and the college. 
How do you stay motivated to run/train?
Signing up to events like this allows me to challenge myself and so gives me something to work towards.
What is your role at Derwen College and what do you like about working here?
At Derwen College I work as an LSA in the Work Experience and Transition team. This is great as it enables me to observe students progression in real work environments and be a part of their journey in to possible employment. 
All money raised will go towards supporting our students in their learning, work placements and wellbeing. Every donation helps, so please support the team at http://uk.virginmoneygiving.com/fund/lakevyrnwyhalf