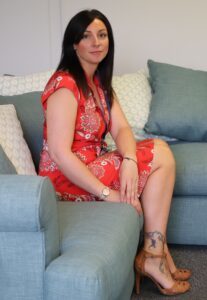 Lucy Harrison has been busy preparing for the opening of Derwen College's new satellite site at Telford's Stafford Park. The site welcomes 11 new day students with special educational needs and/or disabilities (SEND) this term to learn business and employability skills, as well as independence skills.
We asked Lucy a few questions about her new role, her plans, and a little bit about herself.
What was your previous job before starting at Derwen College?
My previous roles have all been in the Telford and West Midlands areas and involved working with young people from a variety of backgrounds. Primarily, I have held teaching roles and in more recent years, I have been able to expand on this by offering pastoral support in helping students to develop additional life skills and address their wider needs.
I have been on the lookout for something that I can really get my teeth into and use all my skills to full advantage. I was in a role where there was limited opportunity to move up the ladder or progress/develop and I was feeling it was time to look for somewhere that I can do that and make a difference. I saw the job advert and applied straight away, even my sister saw the job and emailed it to me telling me to apply.
Two interviews later and I'm working with Derwen College.
What will your job entail?
I imagine it will be incredibly varied. It has already been an amazing journey. I've been working closely with Derwen's Head of Curriculum Zoe Wood and we have 11 students ready to start. I have been keeping in contact with them and their parents whilst we were getting ready at Telford, making sure they had everything they needed before starting with us. This included co-ordinating transport, timetables, risk assessments, care plans and learning plans to make sure they had the very best start.
I've also been letting everyone know about Derwen at Telford – visiting schools and making marketing videos. My diary is starting to fill up very quickly. I'm loving it!
What are you most looking forward to in your role?
I am so looking forward to getting to know the students and starting their journey with them, it's going to be exciting and we are going to do so much. The day we look back and say, 'look how far you have come', that's the most rewarding part. Being able to support students to grow and learn and develop, it's what I have enjoyed in the past and I can't wait to do it again.
What expertise and traits do you have that make you right for the role?
Hmmmm, so many things. I know the Telford area and the young people around here. I have good contacts at different agencies and educational establishments. I'm organised and proactive, I like to think that I am thorough and get the job done. I have good experience in all aspects of teaching and across a range of subjects. Then there's the pastoral side, I think I have the right frame of mind and the balance of patience and understanding along with a pinch of 'you can't pull the wool over my eyes' and 'you can't be serious'. I am able to create a good rapport with students, families, carers, agencies and anyone else who might drop by. And I can make a good cup of tea, so when all else fails the kettle goes on.
What do you think will be biggest challenges in the role?
For me personally, Makaton! I don't use Makaton to communicate right now and it's something I'm keen to learn, so that's the first challenge.
Second, I think, will be making sure everything is running smoothly. The role comes with a lot responsibility. I'm a bit of a perfectionist and I prefer to get things right first time.
What do you know previously about Derwen College?
I didn't know a lot about Derwen before I applied for the role. I did my research and was impressed with the history and how the college has developed. Then I visited the site, and I was super impressed. The whole idea of a hotel, café, Garden Centre and  print shop being a fully functioning service to the public with so many areas for the students to get involved with is incredible. I went away telling everyone about it. I will be working hard to keep up the outstanding provision already in place and make sure that Telford is going to do Derwen justice.
What do you think is going to make the Telford satellite site so important in the area? 
Derwen provides an outstanding provision and is going to be invaluable to so many of the local students here. Derwen already has a big campus at Gobowen and satellites at Walford, in Baschurch, and at Craven Arms, but this is the first time they have come to Telford. This is going to be an amazing opportunity for the area.
What does September have in store for [email protected]?
There are 11 students starting with us in September. The curriculum is Business Support and we will be looking at work placements internally next year and then in the local area the following year. Within the first year we will be building on their business support skills and preparing them for the world of work.
Can you share a fun fact about yourself?
In 2018, I ran the London Marathon for charity and raised over £1500. It was amazing and I loved running around London, the atmosphere was incredible. Is that a fun fact? I can't do any party tricks or anything!
What do you enjoy doing outside of work?
I'm quite crafty and like to upcycle furniture, make things like bags and toys, my most recent lockdown project was a dress which I'm really proud of. I like to eat out – who doesn't? I go walking and love to be outside as well as keeping fit and going to the gym. I am going to be trying out wild camping soon which I am looking forward to as well.