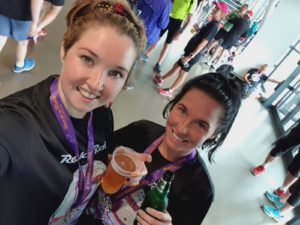 Hair and beauty stylist Erin Fletcher is the only member of #TeamDerwen who doesn't work at the college. She joined the gang in support of her sister and running partner Siobhan Williams who is a teacher at the college. The pair completed Liverpool Half Marathon together in May and are keen to carry on the training to support Derwen College Charity.
Support Erin and the team through their blisters and chaffing by donating whatever you can spare here.
Erin tells us more …
What is your running experience? Over the past 4 years or so I have part taken in four half marathons: Lake Vyrnwy twice, Chirk and Liverpool Rock and Roll Half Marathon. I have also completed a 5K Race for Life and some 10k races.
What do you want to achieve by taking part in the Lake Vyrnwy Half Marathon?  I would like to achieve my personal best of under 2hr 22mins.
How do you stay motivated to run/train? Knowing i have an event to train for keeps me motivated when working a busy lifestyle and knowing I am raising money.
What did you join Team Derwen? My sister is a teacher at Derwen and after taking part in the Mother's day 10k walk I thought it would be nice to join in with the half marathon too. Although I do not work at Derwen College the opportunities and activities the students take part in and the fundraising events are all positive and great for the schools community and lifestyle. 
Favourite food  Has to be pasta
Favourite music/band I love all music from 60s to current especially Motown.