In partnership with Learn Cycling we are able to offer our students cycling sessions working towards Bikeability Level 1.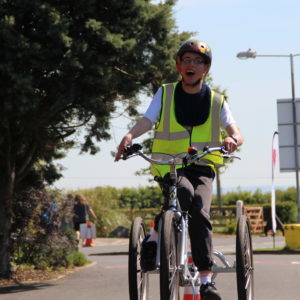 Learncycling are a registered Bikeability provider based in Shrewsbury, Shropshire. They offer all modules of Bikeability training.
Underpinned by the National Standard for cycle training; a government-recognised set of principles, Bikeability is an improved, updated and more relevant version of the old cycling proficiency scheme, delivered by professional instructors.
We have organised 2 x 1.5 hour Bikeability sessions for students to take part in. The cost of these sessions is £15 per student.
Bikeability Level 1 – aims to develop cycle handling in an off-road environment. It involves games and activities to get riders more comfortable and confident on their cycles and promotes a healthy and active lifestyle.
Depending on riding ability and progress there would be an opportunity to work towards Bikeability level 2 and level 3.
We have availability for 12 students (in groups of 6) as below.
| | |
| --- | --- |
| Group 1 | Monday 2nd November and Monday 9th November: 11am – 12.30. |
| Group 2 | Monday 16th November and Monday 23rd November: 11am – 12.30. |

Please email Stephen.Evans@www.derwen.ac.uk to register, no later than Friday 23rd October 2020.
When you email, please can you let Steve know if your young person:
Can ride a 2 wheel bike unaided?
Rides an adapted bike? If yes, please provide details.
Please share any previous/current cycling experience.
And let Steve know if you have your own bike*, and would you like to bring it to college?
(*subject to bike safety check)