Here are just some of Derwen College's award nominations from 2018
November 2018
Derwen College was shortlisted for the Specialist Provider of the Year category in the Tes FE Awards 2019.
It was the second consecutive year that Derwen College was named as one of the top specialist colleges in the UK.
---
October 2018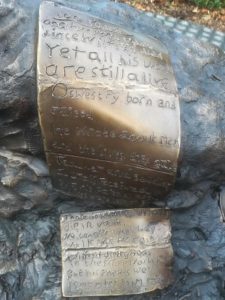 Derwen College & Severn Dee Travel partnership shortlisted in the Community Rail Awards 2018 for involvement in the Chester Shrewsbury Rail Partnership & the Gobowen Area Improvement Project (GAIP) – Gobowen Station Open Day & BIG Pop Up Shops.
A poem written by students at Derwen College was unveiled in Cae Glas Park Oswestry featuring on the new life size bronze statue of Wilfred Owen, commissioned by Oswestry Town Council.
---
September 2018
nasen Awards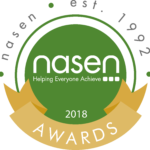 – Derwen College shortlisted for the 'Excellent practice in post-16 education' award.
Carter Gough and Adam Foulkes Fenner confirmed as finalists to compete in Inclusive Skills competition finals at the NEC in Birmingham in November (Entry Level 1 Restaurant Service/Table Laying and Entry Level 2 Catering).
---
August 2018
Derwen College nominated in four categories in the Oswestry & Border Counties Advertizer Community and Business Awards: Customer Service, Place to Eat or Drink, Charity of the Year and Large Business.
Artwork created by learners in Creative Arts displayed in Qube 'Painting by Pixels' exhibition.
---
July 2018

Derwen College won the Democracy Award at the NUS Awards.
Anna Howell and Ashley Beech have also gained a bronze Tesco WOW award for their customer service on the tills, Adam Walker achieved a silver WOW award (progressing from bronze in June) Ellie Saunders achieved a bronze and silver WOW award. The awards are voted for by customers.
Derwen On Tour (DOT) took to the stage at the 2018 International Musical Eisteddfod at Llangollen.  Performing as part of the Eisteddfod's inclusion project sponsored by Scottish Power, DOT were joined by three other local schools and a community choir to perform SEND A Message. DOT performed a dance and a signed song on the Globe Stage and in the Main Pavilion before joining the rest of the group for the finale piece.
---
June 2018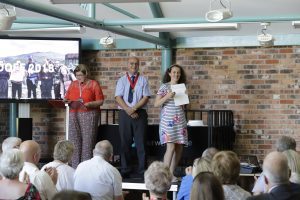 Derwen College won the Outstanding Student/Learner Experience award at the Tribal Empower Conference 2018 Awards.
Student Union Board shortlisted for the Democracy Award and Sarah Laszlo nominated for the Simpson King Staff Achievement Award in the NUS Awards.
Adam Walker received a bronze superstar service award from Tesco after a great review from a customer whilst he has been working on the tills.
Staff member Katie Roberts won the award – Trainee Teacher Student of the Year, North Shropshire College.
Duke of Edinburgh's Awards (DofE) Ceremony – DofE began at Derwen in 2014/15 with 11 learners completing awards this has progressed to 53 for 2017/18.
---
May 2018
Inclusive Skills competition event at Derwen College: Table Laying Entry Level 1 – Carter Gough won Gold. Catering Entry Level 2 – Adam Foulkes Fenner won Gold, Rebecca Spalding won Silver and Georgia Carr won Bronze.
UK IT Challenge (part of the Global ICT Challenge), Ipswich. Jamie Bullock and Sam Innes were selected to take part.
College achieved Matrix re-accreditation.
---
April 2018
Inclusive Skills competition event at South City College Birmingham, Bourneville Campus: ICT Entry Level 2 competition, Rhiannon Evans won Silver.
Staff and students at Derwen College won an award for whole college commitment to maths week (Natspec Maths Week 2018).
---
January 2018
Inclusive Skills competition event at NPTC Newtown: Table Laying Entry Level 1 – James Lewis (Hospitality and Catering Studies) won Bronze.