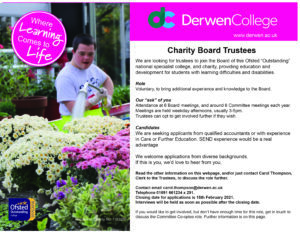 Derwen College, near Oswestry, is looking for volunteer Board trustees.
If your New Year resolution was to get involved with your local community, and do some volunteering, then perhaps consider applying to join the Board of Trustees of Derwen College, the well-known and long-standing charity and further education (FE) college near Oswestry. If you have experience in the FE or Care sectors, or of SEND, or if you are a qualified accountant, and you would like to volunteer in the area of governance, the College would like to hear from you. 
Trustees attend six Board and six Committee meetings a year, held on weekday afternoons. There are opportunities to get more involved if individuals wish to do that. 
Derwen College is a charity that runs FE courses for young people with special educational needs and disabilities (SEND). Students come from Shropshire and across the UK. The College also provides supported living for older people.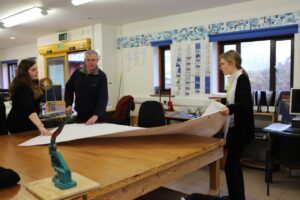 Enriching lives
Kathleen Kimber, Board Chair, said, "Derwen College is a fantastic organisation and our students never fail to impress. Seeing their progress is what drives us as trustees: we ensure the College is well-positioned to serve its students today and into the future, to give them the best experience and to prepare them for the next stage in their lives. Derwen is also home to a number of clients and we work to provide them with the best environment and activities to enrich their lives. 
"Having trustees from a broad range of backgrounds helps the Board to carry out its role effectively. New members bring fresh ideas and perspectives, which are invaluable. We are very interested in hearing from those who think they might be able to contribute to the discussion and decision making."