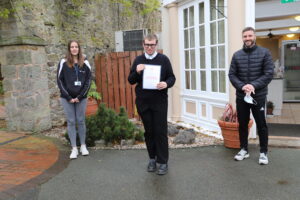 Derwen College student Carter Gough has completed his time at College having achieved his Gold Duke of Edinburgh's Award Participation certificate.
Hospitality student Carter was presented with a Duke of Edinburgh's Gold Participation Award after completing his Volunteering, Physical and Skills sections. Sadly, due to the Covid pandemic – like many students across the UK –  he has been unable to finish the expedition part of the award.
Carter worked incredibly hard to achieve his Duke of Edinburgh's Awards, keeping up the volunteering, physical and skills part of the award during lockdown at home. Derwen College Sports and Leisure co-ordinators Steve Evans and Sian Thomas were very proud to present him with this memento of all his hard work.
Steve Evans said: "We are incredibly proud of Carter who worked phenomenally hard to achieve his award, during an extremely challenging year, and also while he was unable to attend College.
"His commitment and enthusiasm never faltered. Even when he was learning from home, he kept ups his gardening skills, took part in exercise and volunteered by weeding at his local village hall and making and delivering cakes to neighbours.
"We have seen Carter grow in confidence, improving his skills and teamwork. We hope he continues to use and develop his new-found skills, and we hope to see him again in the future."
For his DofE skills section, Carter made a blanket using tie dye techniques. He also grew vegetables, learning to plant, care for, transplant, harvest, store and cook with vegetables.
For the physical section of the award, he attended the college gym three times a week. Whilst at home, he walked 4-5km a day, rode his bike, took part in regular Joe Wicks PE sessions, and attended many sports while back at college.
He volunteered by working in college grounds; tidying up the orchard, picking apples and delivering them to the Food Centre to be made into chutney which was sold in the Garden Centre Shops. While at home, he tended the area around the local village hall, supported his Nanna during lockdown, and made and delivered cakes to neighbours who were unable to go out.
Carter and his family even took part in their own 10km sponsored walk around their home raising more than £1,500.