Derwen College's ground-breaking Hotel 751 training hotel celebrates its third birthday; and what a busy and exciting three years it's been at the Derwen training hotel.
The Premier Inn-supported mini hotel was launched on 27th January 2017; its purpose, to provide on-site training and work experience for students before finding them work placements off site. The model has been a huge success, and has seen Derwen students learn the skills needed to leave college to go into paid work at Premier Inn and other hotels.
Over three years, Hotel 751 and Derwen College's relationship with Premier Inn has blossomed and grown. We are proud to report that:
20 Derwen students have gone on into paid employment at Premier Inns in their home areas.
58 students have worked in the Training Hotel since January 2017
14 students currently have work placements in local Premier Inn hotels
The other exciting progression is that Derwen training hotel Hotel 751 is now officially open for business, welcoming its first paying guests to the hotel in June 2019. Students are proud to welcome guests including students' families, visitors to the nearby Robert Jones & Agnes Hunt Orthopaedic Hospital and Shropshire tourists.
Our special relationship with Premier Inn has seen students invited to attend catering sessions at the Whitbread Training Kitchen. Derwen was also honoured to host a Disability Awareness Day for Premier Inn staff to help them feel supported and confident when working with learners and staff with learning difficulties and disabilities.
Premier Inn have been involved in the college's innovative new Support Work Project suite of apps, supported with funding by Marches Local Enterprise Partnerships (LEP) as part of their Investing in our Future Workforce initiative. Supported and brought to life by marketing, graphic design and app development business Hunter Bevan, these ground-breaking apps are supporting people with SEND (special educational needs and disabilities) into work.  The 'Premier Inn app' provides a step-by-step guide to making up a hotel room which is used to support students in the training hotel, work placements and, ultimately, in their paid work.
The partnership with Premier Inn has been such a success that the training hotel model has been replicated at Hereward College, in Coventry – a national further educational college specialising in skills training for independent living and employment for young people with disabilities and additional needs. Last year, saw Hereward College open its own three-bedroom Premier Inn training centre.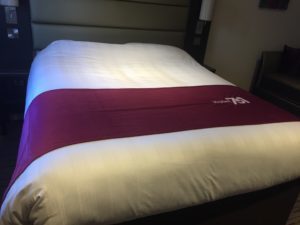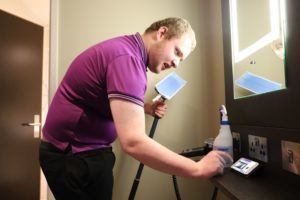 Our partnership with Premier Inn has been life changing for many of our students:
Former Derwen College student Adam works at Premier Inn for four shifts a week.
He says: "I like my job. Everyone is really nice and helpful and they chat to me. Guests say 'Good Morning' and I say 'Good Morning' back."
"I use the app on my phone. The app has helped me a lot to get things in the right order. Sometimes I do forget things and I can use the app for a prompt.
"I like using the videos. It means I can work independently without support. I can work pretty much on my own now. Although other staff are always interested in the app. It's really good to have a job with money!"
Adam's mum says:
"Adam was excited to be able to start work at Premier Inn immediately after leaving Derwen College. He finished college on the Friday and started his first paid shift immediately the next Monday. Support from Derwen College and the team at Premier Inn has enabled him to find a job that he loves."
Simon Ewins, Managing Director, Premier Inn, says:
"Premier Inn couldn't be prouder to work in partnership with this life-changing educational establishment and it's a joy to see the young people learn new skills and flourish under the guidance of the college and our hard-working teams. We're absolutely committed to giving back to the communities in which we serve so we're delighted to have students in employment with us across the country. The partnership is about more than simply 'giving back' though – we get so much ourselves. We think business excellence is cemented by diversity and this partnership in particular not only enables a pipeline of employees but inspires and motivates our teams."
Thank you to Premier Inn for supporting us in realising such an ambitious initiative which has had truly life-changing results for some of our students. HAPPY BIRTHDAY!!!