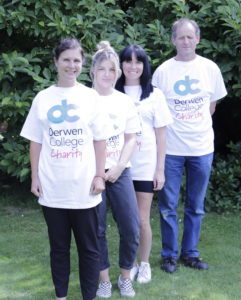 Derwen College press officer Eluned Watson is one of a team of 10 running Lake Vyrnwy Half Marathon on Sunday, 8th September for Derwen College Charity.
The team hope to raise £1000 to help support students with special educational needs and disabilities in their learning, independence, work placements and wellbeing. Sponsor Eluned and her teammates here.
Eluned talks about why she started running and why she's taking part in the half marathon:
What is your running experience? I hated cross country at school and was never particularly sporty. I didn't start running until my late 30s, with the big 4-0 looming. After three children, I wanted to lose a bit of weight and become fitter but couldn't find time or money to join a gym. A friend suggested we train for the first Shrewsbury Half Marathon in 2013 which seemed a big ask for someone who had never even  run three miles. However, I followed a training plan and we managed it. It was a steady pace but that didn't matter, we got to the finish line together and it was an emotional experience. Since then, my running is a bit up and down, with quite a few injuries putting me out of action along the way.
I haven't run a half marathon for a long time but try to keep the jogging up as a member of Shropshire Shufflers but it's usually only five miles at a time. I'm hoping to gradually up my runs to 10 or 11 miles before the big day but there's still got a long way to go.
What do you want to achieve by taking part in the LVHM? I'm hoping that signing up for Lake Vyrnwy will motivate me to run more over the summer holidays – a time when it's often difficult to force myself out for a run.  The bonus of raising money for Derwen College Charity is an added incentive.
How do you stay motivated to run/train? I sometimes struggle with motivation. Knowing that completing the half marathon will help support our students in their learning, work placements and wellbeing is the push I need to get out there and train when I'd prefer to sit in the garden sipping a gin and tonic.
What is your role at Derwen College? Digital and Press Officer. I'm the one who needs to make sure everyone knows about all the brilliant things we do at Derwen College.
What you do love about working at Derwen College? The best things about working at Derwen College are the students and my fellow staff. With the support of dedicated teaching and care staff, our students don't let learning difficulties and disabilities hold them back. They take part in challenging activities, sports and Duke of Edinburgh's Awards alongside their vocational learning and work placements. It's an inspiring and friendly place to work.
Favourite food: I love a decent pizza, and cheesecake, just two of the reasons I need to go jogging.
Favourite music choice: I enjoy a bit of 90s indie but for running something a bit more upbeat or motivational like 'Eye of the Tiger'.