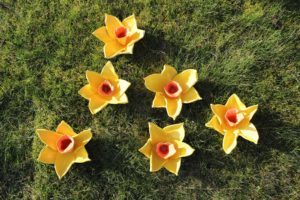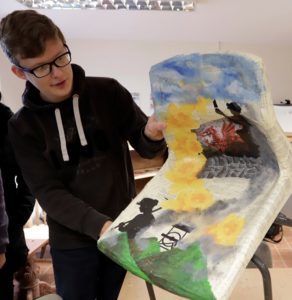 Derwen College students, who hail from all over the UK, embraced St David's Day on 1st March, using the Welsh patron saint as inspiration across the college's pathway areas.
Hospitality students Megan Sheppard, Carter Gough and Grace Bennett combined celebrations for St David's Day and Real Bread Week by making daffodil-shaped breads as part of their learning in the Training Kitchen.
The college's Creative Arts students created beautiful ceramic daffodils to sell to customers in the Garden Centre shop.
Students working at Derwen College's Ashdale House satellite site near Penley, Wrexham, designed and produced upcycled furniture inspired by Wales as part of their upcycling enterprise Hwre. They transformed a bookcase using decoupage images from Welsh song Calon Lan (meaning Pure Heart); and Louis Thomas designed a chair using images of a Welsh coal mine, daffodil and dragon.
Hospitality and Housekeeping students also excelled themselves in producing bread Welsh dragons in the Training Kitchen. The team managed to mark St David's Day, Real Bread Week and Maths Week in one fabulous project.
Dydd Gŵyl Dewi Hapus!