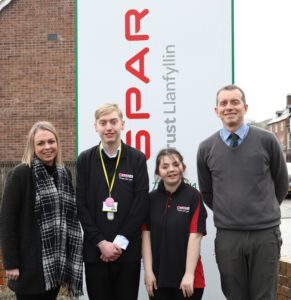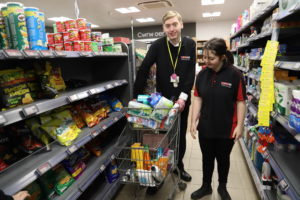 Llanfyllin Spar owner Mark Prust has agreed to share his experience and knowledge in retail to become an 'Industry Champion' for Derwen College, near Oswestry.
The owner of the second-generation business, which was established in 1975, was delighted to volunteer as an Industry Champion, supporting retail staff and students.
Two retail students from Derwen College, in Gobowen, travel to Spar every Tuesday morning for external work placements. In his new role, Mark will also be keeping the college up-to-date on the latest technologies, training and best practice.
Mark said he was very pleased to support the college in any way he was able.
"I was surprised but pleased to be asked to contribute my retail experience to enhance the work done at Derwen College. I hope to be as pro-active as possible in helping out with discovering and understanding latest innovations," he said.
"At Spar we are continuously looking at the latest technology and training for till systems, stock-taking and health and safety which is information that we can share with college staff and students.
"We enjoy having students working here along with learning support assistant Julie Bryan. We have not had to adapt the way we work around them, they have fitted in seamlessly and are a pleasure to work with."
Mark said he was also looking forward to visiting the college's main Gobowen site and to coming to see the students at the annual sponsored walk, fete and Summer Show."
Retail students Thomas Alexander and Sian Walker work at the Spar every Tuesday taking on roles such as stacking shelves, checking stock and customer service. They both enjoy their time working at Spar with Sian particularly relishing conversing with staff and customers in her native Welsh language.
Retail Studies Pathway Lead Sioned Davies said it was wonderful to have Mark on board as an industry champion.
She said: "The role of the industry champion involves being a point of contact for the Retail department. Mark can advise us on till systems and record of stock, as well as offering training support to our staff and students. The purpose of the role is to keep Derwen College – as a training provider – current. This will ensure we are training our students in the skills they require to work in a retail environment after college."