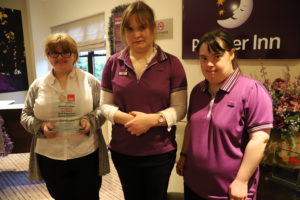 Derwen College has been awarded a top Gold standard award in recognition of its work experience opportunities and vocational programmes for young people.
The specialist Shropshire college has received a Gold certificate and trophy from Fair Train – an organisation which champions high quality work-based learning throughout the UK.
Derwen College, in Gobowen, provides vocational learning and work experience for 16-25 year olds students with learning difficulties and disabilities.
The college offers internal work experience on site in commercial areas which are open to the public including the Orangery Restaurant, Karten Print Shop, Garden Centre and Garden Café. Derwen College has also built strong external links with local and national businesses, offering valuable work experience.
The college houses a Premier Inn training facility where students learn the skills needed to work in the hotel industry. This experience then leads to work experience at Premier Inn hotels in the local area, which – for some students – has gone on to become paid work on leaving college at Premier Inn hotels across the country.
Derwen College's Work Experience and Transition Team are pleased to have received the nationally respected Work Experience Quality Standard at the highest Gold level for the third consecutive time.
Abi Baker, Work Experience Co-ordinator, said she was delighted that the hard work of staff and students at Derwen College had been recognised for a third time.
"We are really pleased to have received the Fair Train gold quality standard award which shows we are achieving Fair Train's exacting standards of practice at the highest Gold level.
"Fair Train's Work Experience Quality Standard is a widely and highly respected accreditation. We have worked closely with Fair Train to ensure we maintain the highest possible standards."
Fair Train was created in 2009 by a group of people from the voluntary and community sector to address the lack of availability and uptake of apprenticeships in the sector. More than 400 organisations – employers, learning/training providers and facilitators – have now achieved Fair Train's Work Experience Quality Standard. They range from major corporations to small, niche firms, schools and colleges and large public bodies in every sector and throughout the UK.
For more information regarding Derwen Colleges' work experience and transition process click here.
Read about how former student Mary Woodall found work at Premier Inn here.