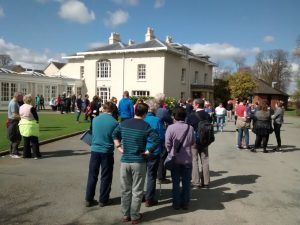 Thank you!
We would like to say a massive thank you for all the support and generous sponsorship raised at our recent Sponsored Walk event. With over 400 walkers taking part the event was a great success and we were lucky to have a sunny day for all to enjoy. Students, their families and locals all joined in and enjoyed scone and tea at the end.
With your generosity we are hoping to raise a total of just over £10,000 – we have money still coming in.
We would also like to say thank you to Olive who took part in her 49th Derwen Sponsored Walk!
All fundraising from the walk be going towards the 2017 fundraising target of £50,000 which is needed to replace the heating system in the swimming pool at the college. This is a vital facility at the college with students using the pool for sport, recreation, hydro and physio therapies as well as training for Duke of Edinburgh's Awards and is used seven days a week.
You can keep up to date with all our events on our events page – https://www.derwen.ac.uk/events/