We are pleased to announce that Derwen College has won two Great Taste Awards for our Raspberry Jam and Spiced Apple Chutney. We are looking forward to sharing the taste of success with our visitors with free tasters of the award winning jam and chutney from 1st to 8th October in Young's Farm Shop and there will also be an offer on that week to buy two jars for £3 (normally priced £1.95).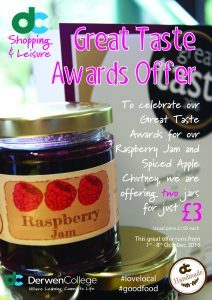 Great Taste, the world's most coveted blind-tasted food awards, which celebrates the very best in food and drink, recently announced the Great Taste stars of 2016. Out of 10,000 products to be judged, Derwen College  was awarded two 1-star awards for the jam and chutney.  Judged by over 500 of the most demanding palates, belonging to food critics, chefs, cooks, restaurateurs and producers as well as a whole host of food writers and journalists, Great Taste is widely acknowledged as the most respected food accreditation scheme for artisan and speciality food producers. As well as a badge of honour, the unmistakeable black and gold Great Taste label is a signpost to a wonderful tasting product, which has been discovered through hours and hours of blind-tasting by hundreds of judges.
The recent awards come on the back of the 2015 Great Taste award for Derwen's Butternut Squash and Apricot chutney also part of the homemade range.
"We are so pleased with these awards and the comments from the judges. They reflect the hard work of the students and the team here. Our raspberry jam is one of our top sellers in the Farm Shop and at outside market events so it is great to get this official recognition for the jam. Students are involved in every process here from planting seeds and growing fruit and vegetables, making the jams and chutneys in the Food Centre and stocking and selling in the Farm Shop, we also create the labels here on site. There is a wide range of products in our dc handmade range including the chutneys and jams" said Nina Brown, Food Centre Coordinator, Derwen College.
"Fabulous colour and fresh aroma. Fresh flavour and lovely seedy texture" was how the judges described the raspberry jam and "A good dark chutney with a decent apple structure to the body of the chutney. A good, well made, honest chutney" about the spiced apple chutney.
The panel of Great Taste judges included; TV chef and author, Valentine Warner, MasterChef judge and restaurant critic, Charles Campion, fifth generation baker, Tom Herbert from Hobbs House Bakery, and Great British Bake Off winner, Frances Quinn; food buyers from Harrods, Selfridges, Fortnum & Mason, Harvey Nichols and Waitrose and chefs including, James Golding, chef director of THE PIG Hotels, and Kevin Gratton, chef director of HIX Restaurants.
The homemade chutneys are also used in the menus in the Orangery Restaurant and Garden Café on site so visitors can enjoy the homemade taste when popping for a bite to eat.